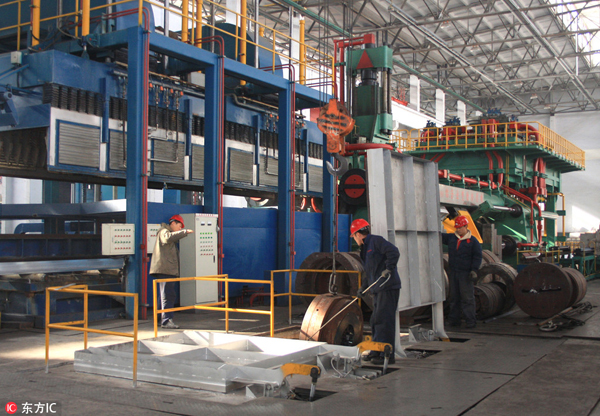 Workers labor at a plant of Zhongwang Holdings in Liaoyang, Northeast China's Liaoning province, November 13, 2009. [Photo/IC]
BEIJING - Chinese aluminum maker Zhongwang announced on Monday plans to acquire its US counterpart Aleris Corporation for $2.33 billion.
The buyer, Zhongwang USA LLC, an entity controlled by Zhongwang's founder Liu Zhongtian, agreed to acquire Aleris from its private equity owners for $1.11 billion, plus $1.22 billion net debt, said Zhongwang on Tuesday. The deal would not change the current management of Aleris.
The billion dollar-plus deal will allow Zhongwang to further engage in the global market, said Liu Zhongtian, adding that he values the experienced management, leading technology, and global client list of Cleveland-based metal producer Aleris.
Hong Kong-listed Zhongwang, based in Liaoning, is the world's second largest aluminum extrusion product manufacturer, according to Zhongwang's website.
Aleris, which has 13 production facilities located throughout North America, Europe and China, provides rolled aluminum for various industries, including aerospace, defense, transport and construction.