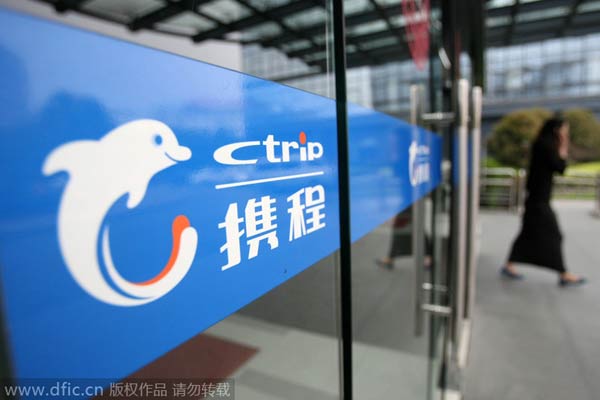 A Chinese employee leaves the office building of Chinese online travel agency Ctrip in Shanghai, Mar 26, 2014.[Photo/IC]
BEIJING - Two leading Chinese online travel agencies (OTA) posted rising revenue growth in the first quarter of 2016 after their merger thanks to Chinese consumers' growing appetite for tourism.
Ctrip raked in 4.2 billion yuan ($63.8 million) in Q1, up 80 percent year on year while Qunar posted a Q1-revenue increase of 48 percent year on year to 993.1 million yuan, according to financial statements released on Thursday.
This is the first quarterly financial performance sheet that the two OTA giants have published after they announced an equity-swap-based merger plan last October.
Ctrip's transportation tickets income soared 106 percent year on year in Q1 while tourism and recreation income grew 41 percent as more Chinese choose package tours or self-managed travel.
Qunar saw its Q1 income from online accommodation sales increase 133.6 percent year on year thanks to rising hotel partners.