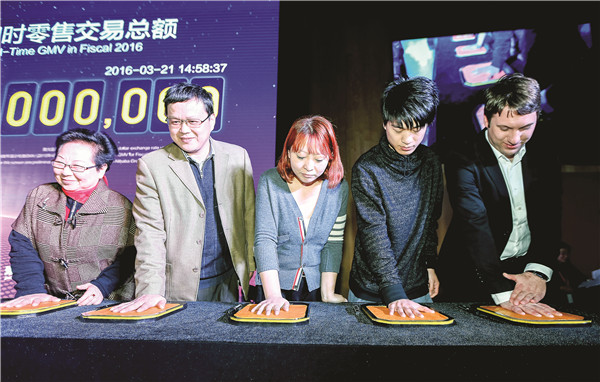 Five consumers from around the world leave their handprints on digital devices to mark e-commerce giant Alibaba Group Holding Ltd's announcement that its revenue hit 3 trillion yuan for April 2015 to March 2016 fiscal year.XU KANGPING/CHINA DAILY
Rome was not built in a day. Nor was any other great city, town, village or company. But in China's rapidly growing internet industry, a potential market-leader, it seems, can be built from scratch within five years.
Three Squirrels is a shining example. It launched on Tmall, Alibaba Group Holding Ltd's online marketplace, in mid-2012. Today, it is China's largest snacks brand in e-commerce.
It started by selling nuts like cashew and pecan. Its 2015 sales reached 2.5 billion yuan ($385 million).