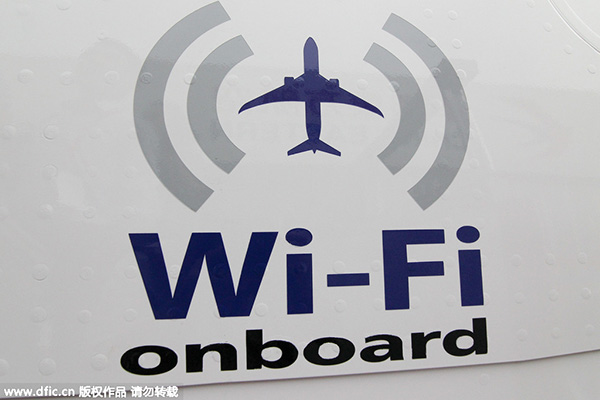 The Wi-Fi services will be available from Nov 12, 2015 on China Eastern flights from Shanghai to New York, Los Angeles and Toronto. [Photo/IC]
Demand for in-flight Wi-Fi has reached a new high among passengers in the Asia-Pacific region, with a new report showing that 90 percent of the surveyed in the region saying the availability of onboard connectivity would influence their choice of airlines.
The report, released by Inmarsat, a London-based leading provider of global satellite communication services, involved a survey of more than 9,000 passengers worldwide who took a flight last year, and carried at least one personal electronic devices onboard. Inmarsat said the Western market has a relatively lower demand, but the difference remains very small.
Chinese passengers are very likely to use in-flight Wi-Fi, as the country has the highest takeup of all the tested Asia-Pacific markets, this shows strong opportunities in the China market, the report revealed.
Bill Peltola, Asia-Pacific regional director of Inmarsat Aviation, said: "The high demand of Chinese fliers to use in-flight Wi-Fi is driven by their motivation of communication activities, and increased appetite to use mobile messaging apps like WeChat (China's major messaging app) and Weibo (China's major micro-blogging platform) on the ground."
"Most Chinese passengers would choose low- and medium-priced packages that consist of basic messaging apps options, as they think those chatting apps are enough. Chinese passengers have a higher-than-average takeup for cheaper options. They remain price sensitive, and are less motivated by high-priced activities like streaming," he said.
Du Ni, a 26-year-old office worker in Beijing, said: "I would bring books and an iPad with pre-downloaded TV dramas, or sleep, when I take a long-haul flight. If the Wi-Fi service is cheap enough, then I would choose it."
Currently, only 3 percent of aircraft operating in the Asia-Pacific region offer in-flight Wi-Fi services. The report said two-thirds of respondents are willing to pay for unlimited internet usage during a flight, indicating the tremendous potential for airlines to use it as a differentiation point to attract more customers.
The survey also showed that 54 percent and 57 percent of Asia-Pacific fliers would choose in-flight Wi-Fi as their preferred service on short- and long-haul flights, respectively, and most think that in-flight Wi-Fi can deliver all of their onboard needs, compared with only 16 percent and 18 percent choosing traditional in-flight entertainment.
In-flight Wi-Fi services emerged in the United States a few years ago, and then spread to Europe, and only came to the Asia-Pacific region recently.
Most airlines decide their own prices for Wi-Fi services, and passengers would be able to pay beforehand when buying the tickets, or pay onboard. Some basic connectivity options are free, and the low-cost package carries a price tag of $5, in addition to a high-end package for about $20, which covers unlimited usage of long-haul flight.