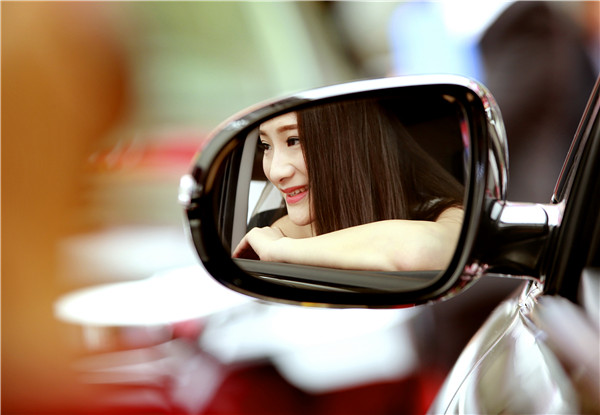 A woman checks a new model's mirror during a recent auto fair in Yichang, Hubei province. The MPV segment has been growing rapidly in the past three years.LIU JIAO/CHINA DAILY
The multi-purpose vehicle segment travels a long distance in China, bringing cheer to carmakers
After strolling around the Auto China 2016 expo held from April 25 to May 4 in Beijing, and checking out 1,000 cars displayed by more than 100 automakers from around the world, this is what Luo Xin, a 36-year-old Beijing bachelor, had to say: "MPV is perfect for family."
Luo already owns three cars. He is looking to marry soon, and then father one or two kids. The New Multivan, Volkswagen's multi-purpose vehicle, is one of his favorites, he said. "All my male friends, who are married with children, want to buy an MPV."
Luo said the price of the New Multivan is similar to that of the Mercedes V-Class. But the car's interior could have been better, he said. So, once he has a family, he would choose Toyota's Sienna as it is "more cost-effective and very safe".
Luo owns an English training institute. He uses his Buick GL8 for picking up students and their parents. The Mercedes-Benz E320L 4MATIC is for meeting clients. And the Porsche Boxster is for fun.
He symbolizes the change sweeping the passenger car market in China. Chinese consumers no longer view vehicles as a means to show off but as machines that serve practical purposes.
With the second-child policy now in place, young couples are expected to have two children, which, in turn, could make the MPV segment the sweet spot in China's auto market, the largest in the world.
The MPV segment has been growing rapidly in the past three years. Sales touched about 1 million units in 2013. That was almost 7 percent of the total passenger vehicle market, just 4.67 percent less than small cars.