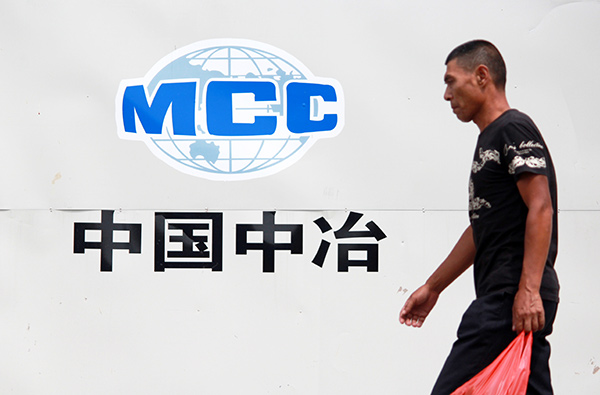 A man walks past a logo of Metallurgical Corp of China Ltd in Nanjing, capital of Jiangsu province. MCC has merged with China Minmetals Corp to become its wholly owned subsidiary. [Zhen Huai/For China Daily]
Combining SOEs will deliver strong global competitive advantages
Metallurgical Corp of China Ltd saw its shares slump 10.01 percent on Wednesday, after an official announcement the previous day of it being folded into China Minmetals Corp, the country's biggest steel and base metals trader, as a wholly owned subsidiary.
Shares in Metallurgical Corp, or MCC, a State-owned engineering and mining group, had been suspended since August pending consideration of "significant matters", and had missed the losses suffered by the wider stock market.
The State-owned Assets Supervision and Administration Commission, which oversees the operations of State-owned enterprises under the central government, said on Tuesday that MCC had merged with Minmetals to become its wholly owned subsidiary.
The commission gave no further details of the transaction or a specific time frame for the move.
According to Zhu Yi, Asian metals and mining analyst at Bloomberg Intelligence, the merger will be mutually beneficial if they are able to fully complement each other's advantages and integrate their resources.
"Once fully implemented, the merger, conducted amid a trend toward consolidation among major domestic enterprises for better global competitive advantages during their overseas expansion, will further promote the performance of the stocks of State-owned enterprises," she said.
China's metals industry, hard hit by the domestic economic slowdown and weakening global markets for raw materials, has become a target for reforms to boost efficiency and reduce overcapacity.
Under the country's long-term strategy for reorganizing State-owned enterprises, China's two biggest rolling stock producers, CSR Corp Ltd and CNR Corp Ltd have already merged to form CRRC Corp, while a merger between China Ocean Shipping Group, and China Shipping Group is also in the works.
Zhu added that the merger between MCC and Minmetals will prevent both companies from unnecessary competition and excess investment in the domestic market.
In addition, another result of a successful merger of the two firms is that may also help prevent a long-term decline in the A-share market, as their integration would likely end up in streamlinining which would include trimming overlapping operations.
Increased efficiency through stripping out overcapacity may not be obvious in the short term, but the merger would definitely improve the efficiency of capital operations, said Qi Ding, a Beijing-based analyst at Essence Securities Co.
Minmetals ranked 198th in Fortune magazine's 2015 Global 500, with $52.3 billion in revenue, while MCC was in 326th place, with $35.8 billion.
According to Bloomberg, the combined revenues of Minmetals and MCC amounted to about 614 billion yuan ($96 billion) in 2013, the last year for which figures are available for both companies.
The world's largest miner, BHP Billiton Ltd, had sales of almost $66 billion in the same year, it said.