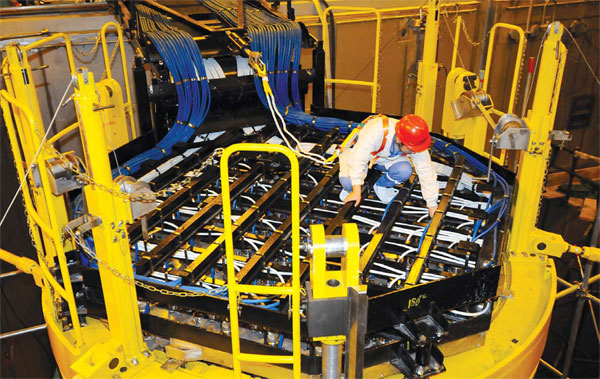 A worker at Guangxi Fangchenggang Nuclear Power Plant, which uses Hualong One technology. [Photo provided to China Daily]
Work on the sixth unit at the Fuqing nuclear power plant in Fujian province is expected to start later this month, officials said on Wednesday.
The unit, which will use Hualong One technology, is expected to be another fillip for China as it seeks to export its nuclear technology to other countries, they said.
Chen Hua, president of China National Nuclear Power Co Ltd, the listed-company of China National Nuclear Corp, a nuclear plant operator, said it had already started preparatory work on the project.
"Work on the fifth unit is progressing well and we are set to start construction on the sixth unit soon," he said.
The sixth unit is one of the two nuclear reactors in Fuqing that will use Hualong One. The Fuqing nuclear power complex consists of six nuclear reactors altogether. Construction work on the fifth unit, the first reactor to use Hualong One, started in May this year.
Qian Zhimin, chairman of CNNC, said that Fuqing nuclear power plant construction will help the company bid for more overseas projects. It has already closed nuclear deals in Argentina earlier this year.
"Exporting one nuclear reactor will probably bring in about 30 billion yuan ($4.68 billion) in value, the equivalent of exporting 300,000 cars. The nuclear industry will play an important role in driving innovation and industrial upgrade," he said.
About 40 countries along the Belt and Road Initiative are likely to embark on nuclear projects or are already developing their nuclear industry, and even 20 percent of those projects could be a huge market for China, Qian said.
The government gave the green light to two nuclear reactors of Hualong One last year, and plans to build more nuclear power plants during the 13th Five-Year Plan (2016-20). The country is accelerating construction of nuclear projects with six to eight new reactors going on stream every year.
China is expected to have 30 nuclear reactors in operation by the end of this year, with plans to promote inland nuclear power projects in the next five years.
Liu Baohua, head of the nuclear power department of China's National Energy Administration, said there are currently 27 units in operation, but that number will rise as another three units are undergoing testing and are likely to be commissioned by the end of the year.