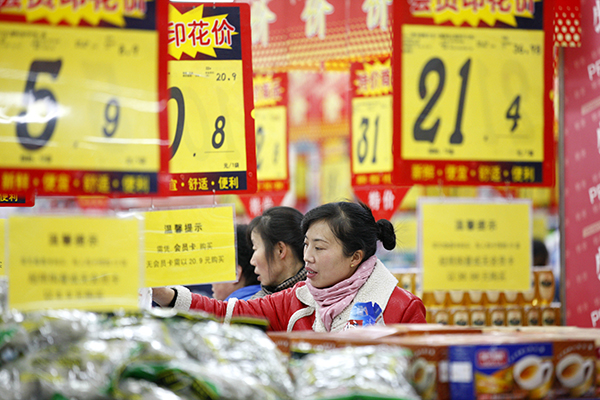 Consumers shop at a local supermarket in Huaibei, Anhui province, on Wednesday. The rise in the CPI in November was mainly driven by food prices. [Xie Zhengyi/For China Daily]

Low levels of inflation leave room for policies to ensure sufficient liquidity
China's modest inflation and increasing capital outflows may lead to further monetary easing at end of the year to ensure sufficient liquidity, observers speculated.
In the first 11 months of the year, the Consumer Price Index averaged 1.4 percent, much lower than the government's ceiling of 3 percent, while deflation in the manufacturing sector ran at 5.1 percent, according to the National Bureau of Statistics.
In November, the CPI climbed to 1.5 percent year-on-year, up from 1.3 percent in October, driven mainly by food prices, especially pork and vegetable prices.
Meanwhile, the Producer Price Index declined at an annualized 5.9 percent in November, the same rate as in October.
The PPI has stayed in deflationary territory for 45 consecutive months, and the current reading is the lowest rate over that period.
Despite the slight hike in consumer inflation, a much bigger threat to the economy is the long-term contraction of factory-gate prices, reflecting overcapacity and lower commodity prices amid weak demand, economists said.
Liu Ligang, chief economist in China at the Australia and New Zealand Banking Group, warned that "China has entered a deflationary period" and said deflation from the manufacturing sector will further affect the consumer sector.
The CPI in 2016 is likely to fall to around 1 percent, said Liu.
Zhu Haibin, chief economist in China at JPMorgan Chase, also said that PPI deflation will likely continue next year, although the pace may gradually slow.
"Monetary policy will continue to be accommodative, though after the series of easings the room for further rate cuts will become more limited," said Zhu.
He expected one cut in the benchmark interest rate by 25 basis points and four cuts of the reserve requirement ratio of 50 basis points each in 2016, coordinated with fiscal policy to provide support in targeted sectors and to stabilize growth.
Recent data from the central bank showed that the country's total foreign exchange reserves declined by $87 billion in November, the biggest since the record drop of $93.9 billion in August, continuing the capital outflow.
It increased the possibility that the People's Bank of China would cut the reserve ratio by 50 basis points as early as December to supplement liquidity, according to Liu.
Zhao Yang, chief economist in China at Nomura Securities, also expected a moderate fiscal stimulus next year, with the budget deficit rising to 3 percent of GDP in 2016, up from 2.3 percent this year, as the contained inflationary pressures leave room for policy easing.