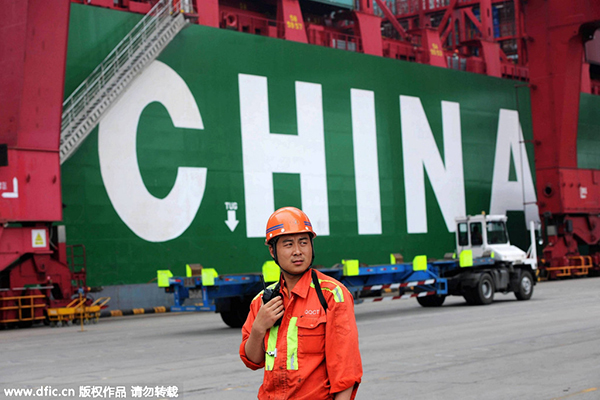 A stevedore works at Qingdao port in Shandong province, July 1, 2015. [Photo/IC]
A downturn in exports during the first 11 months illustrates the unprecedented challenges facing China's foreign trade, with enduring severe export pressure predicted throughout this year and due to last until next year.
China's exports in November fell 3.7 percent year-on-year in yuan-denominated terms, which is worse than the 2.9 percent that experts predicted, according to figures released on Tuesday by the General Administration of Customs.
Against the backdrop of a weak global economic recovery and poor domestic and overseas demand, total exports from January to November fell by 2.2 percent year-on-year to more than 12.7 trillion yuan ($1.97 trillion), while imports dropped by 14.4 percent year-on-year to 9.37 trillion yuan, with the trade surplus widening by 63 percent to 3.3 trillion yuan, said the administration.
Experts said the decline in foreign trade is due to continue for the remainder of this year, while 2016 is also going to be tough for China's imports and exports, as activity is weighed down by weak demand at home and abroad, factory overcapacity and cooling investment.
The outlook for foreign trade in 2015 was not rosy, thanks to weak global economic recovery, poor demand at home and abroad and the poor implementation of trade facilitation measures, said Zhang Jianping, director of the International Economic Cooperation Institute at the National Development and Reform Commission.
Zhang predicted next year faces challenges in exports and imports just as severe and stern, and called for more effective measures to boost China's domestic market and further streamline related regulations.
"While China's foreign trade has a lot to do with the international economic situation and external demand recovery, accelerating foreign trade zones and promoting trade and investment facilitation will also help China's foreign trade recover," he said.
Bai Ming, deputy director of the market research department at the Chinese Academy of International Trade and Economic Cooperation, share the same view.
China's traditional competitive advantages in foreign trade are weakening along with economic restructuring and industrial upgrading, which is partly to blame for the poor performance of exports, Bai said.
However, China's free trade agreements with South Korea and Australia, together with the demand for industrial upgrading, are likely to prompt an increase in foreign trade in the long run, especially imports, he said.
According to the General Administration of Customs, China's total foreign trade-imports and exports-fell by 7.8 percent year-on-year to 22.08 trillion yuan in the first 11 months.
In November alone, total foreign trade fell by 4.5 percent to 2.16 trillion yuan, with exports dropping by 3.7 percent year-on-year to 1.25 trillion yuan and imports dropping by 5.6 percent to 910 billion yuan and trade surplus expanding by 2 percent to 343.1 billion yuan.