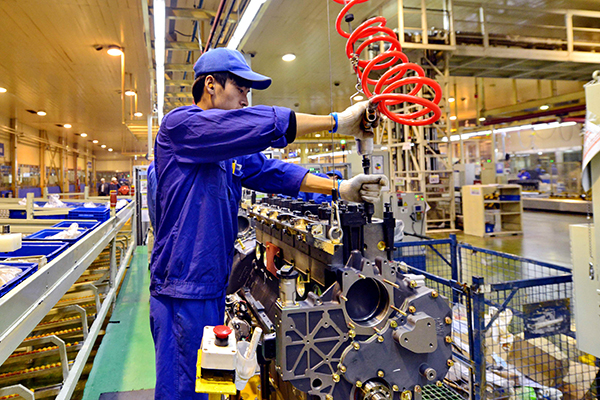 A worker at a production line of Weichai Power Co Ltd in Weifang, Shandong province. The automotive and equipment manufacturer is considering acquisition opportunities to make optimal use of its resources in overseas markets. JU CHUANJIANG / CHINA DAILY
Auto equipment maker planning manufacturing facilities in Brazil, India
Weichai Power Co Ltd, an automotive and equipment manufacturing company, said on Wednesday that it was considering acquisition opportunities to make optimal use of its resources in overseas markets.
Dai Lixin, vice-president of the company, said overseas acquisitions will help the company complete its product portfolio and make its core business more competitive.
"Having a global perspective has always been a part of our strategy. We will consider suitable opportunities for possible overseas acquisitions if the timing is right and the price is reasonable," he said.
Currently, Russia is a major export market for Weichai, which has exported products such as diesel engines and generators, but the company is also exploring business opportunities in other countries like Brazil and India.
"Emerging economies like Brazil and India have huge potential for growth in the commercial-vehicle market, so I think we have many opportunities there," he said.
At the same time, Weichai, based in Weifang, Shandong province, is also trying to localize its production in overseas markets by setting up a factory in India, which is expected to produce more than 700 engines this year. The group made huge inroads into the global market since 2009 with the acquisition of 130-year-old French diesel engine maker Moteurs Baudouin.
Weichai also acquired a 25 percent stake in Germany-based Kion Group, the world's second-largest forklift maker for 467 million euros ($509 million) and a 70 percent controlling stake in Kion's subsidiary Linde Hydraulics for 271 million euros in 2012.
Dai said that China's market for high-end hydraulics components has been dominated by manufacturers from Germany and Japan and relies heavily on imports, because the hydraulics control systems technology is a bottleneck for the equipment manufacturing industry.
The technology can be applied to many industries such as engineering and agricultural machinery, yachts, aviation and aerospace.
"The takeover was like a shortcut for us, because it helped us enter the high-end segment in equipment manufacturing," he said, adding that the company's first hydraulic equipment factory started production in June.
Yi Sun, a partner at Ernst & Young and head of China business services in Germany, Austria and Switzerland, said that Germany has become an investment target for Chinese companies with advanced technologies in many fields.
"It is a smart move as it helps Chinese companies complete their product upgrade and gain an edge over rivals," he said.
Chinese companies going on a global shopping spree have been very common recently, but only a few have made the acquired companies grow and prosper.
Dai said the key to making it work is cultural integration. After the acquisition, Weichai retained most of the management team in the company and only replaced some members of the board of supervisors at Kion.
"It is better off this way, because it is important to know how to play in the local markets and our cultural differences," he said. "Keeping local staff will help us integrate into local market sooner and better."