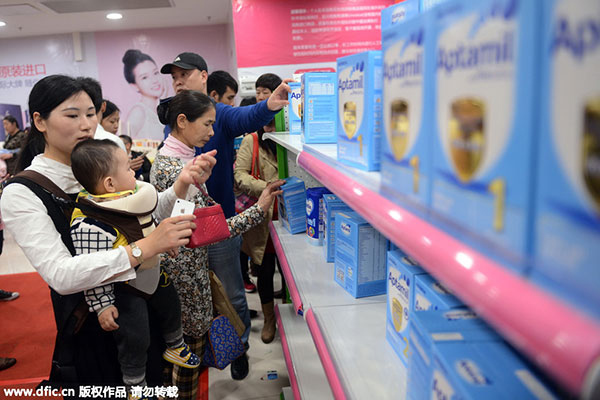 A Chinese mom shops for milk formula while carrying her baby in a supermarket in Guangzhou, Guangdong province, Jan 23.[Photo/IC]
A Chinese-owned consortium appears to have successfully fought off a challenge from a rival Australian group bidding to buy the country's oldest dairy company, after a judge dismissed an injunction holding up the sale.
Victorian Supreme Court Justice James Judd dismissed the request by TasFoods Ltd for an extension of the injunction, which had temporarily blocked the sale of Van Diemen's Land to the Chinese-backed Moon Lake Investments Pty Ltd.
Moon Lake was recently bought by Chinese businessman Lu Xianfeng, the founder and largest shareholder of Ningbo Xianfeng New Material Co, which is listed on the Shenzhen Stock Exchange with a market capitalization of $1.52 billion.
TasFoods claims it had reached an agreement in principal to take over VDL for A$250 million ($181.6 million), which has been operating in the state of Tasmania since 1825.
But VDL's owner, New Zealand's New Plymouth District Council, opted at the last minute to accept a "commercially superior" offer from the Chinese billionaire's group.
The council's mayor, Andrew Judd, said the court's decision would allow the local community to capitalize on Moon Lake's bid."
In accepting the rival's "commercially superior" offer of $280m from Moon Lake, "the council is fulfilling its obligation to make decisions that are in the best interests of the community", Judd said in a statement published by News Corp.
Lu said he was jubilant after the court lifted the injunction order which allows both parties to press on with finalizing the deal.
"We welcome the court's decision. We are pleased it has been resolved so quickly, and now look forward to preparing for the completion of the deal," he said in a statement.
VDL is Australia's biggest milk supplier. It operates 25 Tasmanian dairy farms, milking some 19,000 cows, producing up to 100 million liters of milk a year.
Despite the removal of the injunction, the deal still needs approval by Australia's Foreign Investment Review Board.
Song Liang, a dairy industry expert, said that Chinese investors are increasingly interested in agricultural industries in Australia and New Zealand rather than iron ore and other natural resources, thanks to the rising demand for agricultural products overseas.