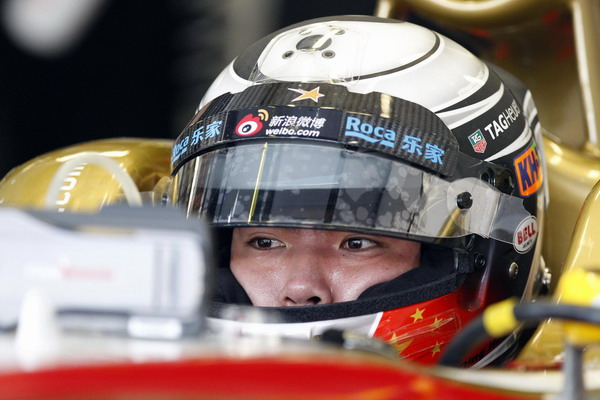 HRT Formula One driver Ma Qinghua of China sits in his car during the first practice session of the Italian F1 Grand Prix at the Monza circuit Sept 7, 2012. [Photo/Agencies]
LONDON - Eleven years after China became a stop in the Formula One motor racing calendar, the country now wants to become the racing championship's owner.
According to a Sky News report on Friday, China Media Capital is leading a group of Chinese firms to back a $8.5 billion takeover bid for the sport.
The group of Chinese media investors are willing to invest roughly $1.5 billion in the offer being assembled by Stephen Ross, owner of the Miami Dolphins American football team, Sky News said.
The proposed takeover of F1, which remains far from certain to take place, still requires roughly $2 billion in additional equity from other investors.
The takeover proposal from the consortium which involves CMC comes at a difficult time for F1, with a number of teams succumbing to or facing financial difficulties, and lingering concerns about the quality of the sporting spectacle.
One uncertainty facing the sport is the outcome of a complaint submitted recently by two of the smaller teams - Force India and Sauber - to the European Commission about the way prize money is distributed.
Chinese investors are pursuing rapid global expansion in sports and entertainment business. CMC is among a group of Chinese media investors, which also include Fosun and Wanda, recently unveiled a partnership with the Hollywood studio Warner Bros Entertainment to produce Chinese-language films for distribution around the world.
And Wanda, which built its wealth through real estate, already bought stake in Spanish champions Atletico Madrid and acquired Infront Sports & Media, a leading sports marketing company.