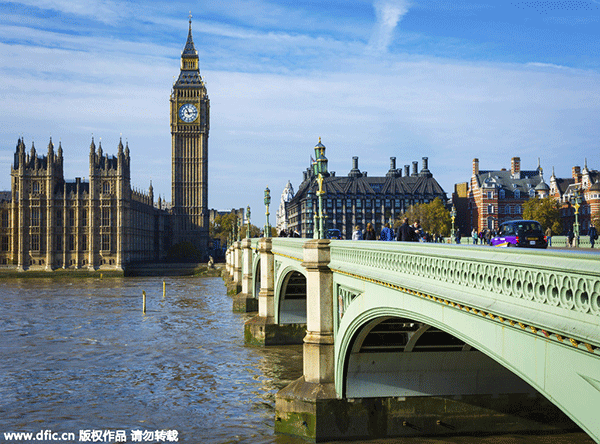 Big Ben, Houses of Parliament and Westminster Bridge viewed from across the River Thames, London Nov 6, 2014. [Photo/IC]
LONDON - The number of Chinese visitors to Britain in the first six months of 2015 reached a record 90,000, a 28 percent rise on the same period of 2014, figures from Visit Britain revealed Friday.
Tourism officials are expecting the total number of Chinese visitors for the year to reach more than 200,000.
Visit Britain said statistics from ONS, the Office for National Statistics, show the number of tourists from Middle East Gulf states also set a new record.
Visitors from China and the Gulf Cooperation Council (GCC), including Bahrain, Kuwait, Oman, Qatar, Saudi Arabia and the United Arab Emirates, markets indicated their growing love of Britain as a holiday destination with record numbers visiting during the first six months of 2015.
Strength in the numbers of visits from growth markets such as China, rising 28 percent to a record 90,000 in the first half of the year, and the GCC, with record numbers of visits, 282,000 (a two percent rise), and spend of over $1 billion, up three percent, indicates the success of regional VisitBritain campaigns and commercial partnerships in both markets, said Visit Britain.
Visits from Britain's two most valuable markets, the United States and Germany, spent record amounts in the first six months, with visitors from India, Singapore and Sweden also increased their spending during this period.
Britain welcomed three percent more visits over the first six months of 2015, beating last year's record figures for the same period. Spending in the first six months of 2015 increased by two percent, contributing almost $15 billion to the British economy.
Patricia Yates, Director of Strategy and Communications at Visit Britain said: "The UK continues to be a draw to all visitors and the increase in business visits reflects the return to the UK as a place to come and do business."