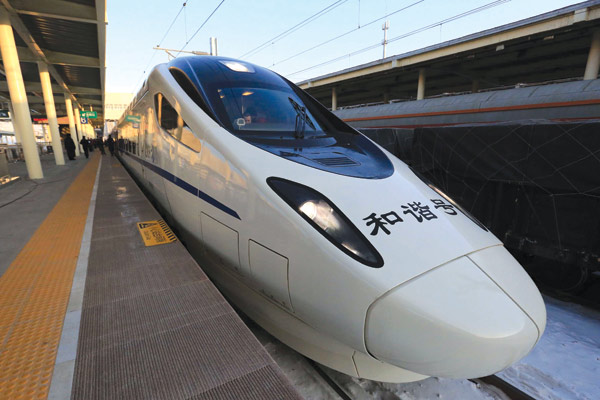 A high-speed train that runs on Lanzhou-Urumqi High-Speed Railway stops at Urumqi, Xinjiang Uygur autonomous region in this 2014 file photo. [Photo/Xinhua]
China's leading high speed company China Railway Rolling Stock Corporation is making significant inroads into the UK market as the British chancellor George Osborne opened the bidding process for Britain's High Speed 2 project on Thursday.
CRRC established a representative office in the UK earlier this year and established a research and development partnership with three British universities to strengthen its high speed train technology. All this is aimed at strengthening the company's expected HS2 bid, against competition from the likes of Japan's Hitachi, France's Alstom, and Germany's Siemens.
Speaking in China, Osborne urged firms to bid for seven contracts worth 11.8 billion pounds in total, covering the first phase of HS2, between London and Birmingham.
The plan for HS2 is for a new railway line between London and the West Midlands carrying 400m-long trains with up to 1,100 seats per train. They would initially operate at speeds of up to 225 miles per hour, potentially rising to 250 miles per hour and would travel up to 14 times per hour in each direction.
"Chinese railway technology has the unique advantage of being cost effective," said James Jameson, Vice President of Product Strategy at Rivo, a British firm that supplies safety software to the rail industry.
"The cost saving comes from the actual trains, the knowledge and the massive economy of scale. The Chinese firms have technology that's developed over the years, which is tried, tested and improved and highly valuable," Jameson said.
Roy Freeland, president of Perpetuum Ltd, a supplier of wireless train and track monitoring systems, said that Osborne's visit to China has clearly demonstrated that the UK wants to increase trade with China. "Specifically George Osborne is encouraging China to bid for HS2 work."
Freeland said that CRRC will need to demonstrate that it has good designs and capability to manage large projects, in order to succeed in the HS2 bids.
He said that just like Japan's Hitachi has set up a UK manufacturing plant, he believes CRRC can do the same to improve its chances of being selected, particularly if it incorporated leading UK technology in its plans to ensure that trains meet UK technical requirements, as well as creating British jobs.
"CRRC has now established an office in London but is not yet a well-known supplier in the UK. However, I believe that HS2 wants to encourage all capable suppliers and CRRC is certainly a credible option," Freeland said.
Simon Kirby, chief executive of HS2, said Osborne's appeal was designed to bring "the best technology into the UK", saying the project would boost British jobs.
Final contracts would not be signed until the bill received Royal Assent. Kirby said it is "best practice" to get the firms who will build the track involved in early planning stages.
Russell Jackson, market director of emerging markets, transportation, at engineering consultancy Atkins, said the costs per kilometer of Chinese high-speed railways are very competitive when compared with the UK.
"I expect the technology is comparable to the UK, as it's clear the Chinese rail industry has built a vast high-speed network in the time the UK has spent between building HS1 and designing HS2 - that is an unrivalled experience and capability in high-speed railway engineering.
"However, it is important for Chinese railway firms to understand the differences between Chinese and UK environments when looking to bring their experience to benefit UK projects," Jackson said.
To contact the reporter: cecily.liu@mail.chinadailyuk.com