Deal making activity in China continued to gain momentum as the value of announced mergers & acquisitions (M&A) involving Chinese companies reached $176.6 billion during the second quarter of 2015, a 37.2 percent sequential increase compared to the first quarter of 2015 and up 44.9 percent from the second quarter of 2014, according to data from Thomson Reuters. This brings overall Chinese M&A so far this year to $305.3 billion, a 61.6 percent increase from the first half of 2014, and witnessed the best semi-annual period on record for China M&A.
Outbound acquisitions by Chinese companies grew 65.0 percent from the same period last year, with $44.7 billion worth of in transactions, the highest first half period since 2008 ($60.2 billion). The Industrials sector accounted for 30.3 percent of China's outbound acquisitions in terms of deal value, with $13.5 billion, up 477.4 percent from the first half of 2014. The Financials and Real Estate sector represented 22.7 percent and 15.4 percent of China's overseas acquisitions, respectively.
China's overseas acquisitions in Europe witnessed a record high, with 125.3 percent growth in deal value to $18.7 billion compared to the first half of 2014 ($8.3 billion).
Here are the top 6 outbound M&A deals made by Chinese companies
No 6 Dalian Wanda Group Corp agreed to acquire Infront Sports & Media AG
Dalian Wanda Group Corp Ltd of China signed an agreement to acquire the entire share capital of Infront Sports & Media AG, a Switzerland-based provider of marketing services, from Bridgepoint Advisers Ltd (Bridgepoint), for an estimated $1.189 billion.
Transaction value: $1.189 billion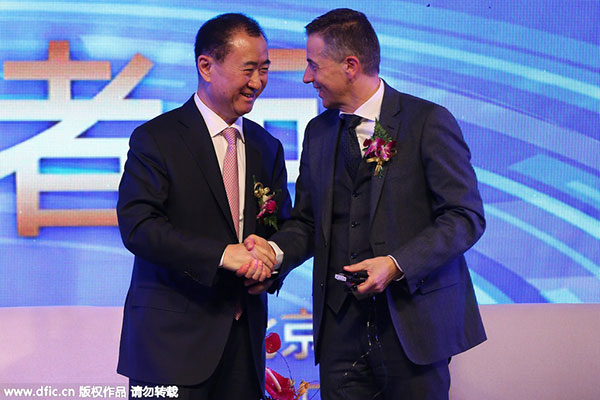 China's Wanda Group Chairman Wang Jianlin (L) shakes hands with Philippe Blatter, Infront's President and CEO during an agreement ceremony in Beijing, China, 10 February 2015. [Photo/IC]