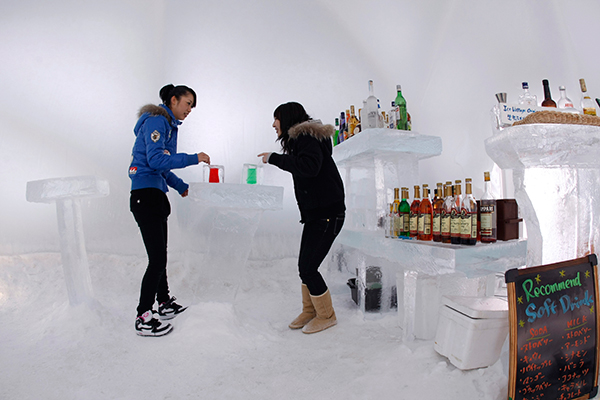 Women drink cocktails at an ice bar in the Alpha, Resort Tomamu's ice village in Shimukappu town, Japan's northernmost island of Hokkaido. [Photo/Reuters]
Investments in Japanese resorts, hotels, property point to a clear pattern
That hordes of Chinese tourists love to visit Japan is well known, but not so well known is Chinese companies' penchant to invest in the Land of the Rising Sun.
Take Shanghai Yuyuan Tourist Mart Co Ltd for instance. On Nov 11, it announced it has acquired a 100 percent stake in Hoshino Resorts Group's 11-year-old, 25-track, 757-room ski destination Resort Tomamu, located in Japan's northernmost island Hokkaido, for 18.36 billion yen ($148.7 million).
Shanghai Yuyuan bought an 80 percent stake from Dutch investment fund Matakite BV and the rest from Hoshino Resorts Inc.
Hoshino Resorts said the acquisition took effect on Dec 1. But it will continue to operate Resort Tomamu. Shanghai Yuyuan will make strategic plans and provide financial support to make Resort Tomamu the top tourist destination in Hokkaido.
Hoshino Resorts also owns 61.6 percent of Resort Tomamu's land asset measuring 3.35 million square meters as well as 36.3 percent of property measuring 67,259 sq m.
The ski resort also boasts an 18-hole golf course, and a church on the water designed by celebrated architect Tadao Ando.
Resort Tomamu's turnover has been increasing rapidly after a renovation in 2012. The compound annual growth rate of sales in the past five years reached 10 percent, while the CAGR for operating profit was as high as 43 percent.
In 2014, Resort Tomamu's net profit was 701 million yen on sales of 6.14 billion yen.
The Hokkaido Tourism Organization said it was pleasantly surprised by Shanghai Yuyuan's almost $150-million bet on the resort, the first big-ticket Chinese investment in the island.
The HTO said a growing number of Chinese corporate buyers have been making enquiries about property prices in Hokkaido. Reasons remain unclear, it said.
But what is clear is Chinese people's growing interest in Japan in general and Hokkaido in particular.
One reason for Shanghai Yuyuan's interest in Hokkaido could be that the island has become one of the most popular destinations for Chinese tourists in recent years, especially during the skiing season.
According to the HTO, nearly 22.5 percent of the tourists to Hokkaido in February 2014 were from China. That number remained almost unchanged till September this year.
Tang Jiarui, a senior analyst at securities brokerage BOC International (China) Ltd who is based in Shanghai, said he thinks the large-scale presence of Chinese tourists in Hokkaido could have persuaded Shanghai Yuyuan to invest in Resort Tomamu.
Profit can be earned by introducing more Chinese tourists to the resort. After all, Shanghai Yuyuan has reach in its domestic market.
What's more, the resort has 710 additional rooms that are as yet unused. So, there is, well, room for high growth in future, he said.
Wang Junjie, a senior researcher at Shanghai-based Shenwan Hongyuan Securities Co, said Shanghai Yuyuan's investment in Japan is in tune with its future development focus, which is business travel.
"Apart from hotels, catering, skiing and all kinds of outdoor activities that the resorts provide, the advanced management experience will be of great value to Shanghai Yuyuan as it strives to further enhance its service quality," Wang said.