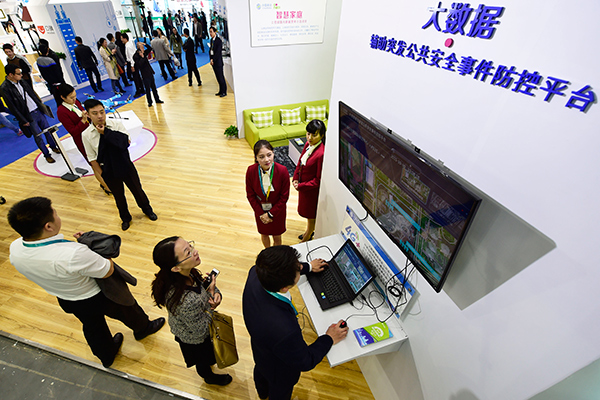 An employee displays a big data control platform to highlight public safety events at an e-commerce fair in Hangzhou, Zhejiang province. [Li Zhong/For China Daily]
Big data has become a catchword in business circles. One often hears of companies, enterprises or even governments going gaga over the technology and the innumerable economic benefits it brings in its train.
Like most of my peers, I have employed the term often, without really understanding what big data has in store.
So I was a bit taken aback when my old school friend called me up to get my take on big data and how it is being used effectively in China.
Let me confess, my knowledge of big data till then was peripheral: that it was the huge amount of information created through online activities and transactions and something that is used to discover trends and make predictions.
The quest for a more cogent answer was, however, an eye-opener of sorts.
I was surprised to learn that in the past five years, China has been at the forefront of several pioneering big data initiatives and private enterprises are showing the way.
Internet search giant Baidu Inc, for instance, is using big data to understand and track disease patterns, with the data being offered to hospitals so they can stock the requisite medicines and personnel during epidemic outbreaks.
Tencent Holdings Ltd, the tech firm that runs the WeChat mobile chat network, is using social data to identify trendsetters across categories for target marketing.
While Alibaba Group Holding Ltd, China's largest e-commerce company, is using a wealth of financial information from its Taobao and Alipay channels to identify potential funding candidates.
"When industry begins to make better use of big data, it will definitely make a big difference," said Liu Pinyuan, an expert on smart cities at the China Academy of Space Technology, adding that although government use of big data is still in its infancy, policymakers are well abreast of its huge value.
According to Liu, the forthcoming 13th Five-Year Plan (2016-20) will include a national big data strategy, with an added emphasis on opening and sharing of data resources.
But some experts believe that big data is already losing steam.
Global market research firm Gartner Inc in its latest report says that while big data enjoyed big hype in 2014, it has all but fallen off the "map for 2015".
Part of the reason why the hype is fizzling out is because most of the technologies that were big news last year, are already in use and are no longer big news, Gartner said.
Bernanrd Marr, a leading global expert on big data, however, presents a different spin.
The Gartner report does not imply that big data is no longer relevant, he said. Rather, most of the emerging technologies mentioned by Gartner like autonomous vehicles, machine learning, and the Internet of Things, all produce and rely on ever-larger quantities of data.
Marr goes on to buttress the point with some mind-boggling data of his own.
"We are positively swimming in it, and that's not going to change.
"By 2020, about 1.7 megabytes of new information will be created every second for every human being on the planet. By then, accumulated digital knowledge will be around 44 zettabytes, or 44 trillion gigabytes, up from just 4.4 zettabytes today," he said.
According to Marr, the problem is that the ability to properly analyze big data and draw conclusions from it is not keeping pace with the rate at which it is being created.
"Only 0.5 percent of the data we create is ever analyzed and used.
"Imagine the potential that exists in even another fraction of that information? Just a 10 percent increase in data accessibility will result in more than $65 million additional net income for a typical Fortune 1,000 company," he said.
Much like Marr, I also believe that big data will persist, and it will become an even bigger part of everyday life, whether it's hyped up or not, due to the sheer economics behind it.
After all, in a knowledge-driven ecosystem, who can make do without big data?