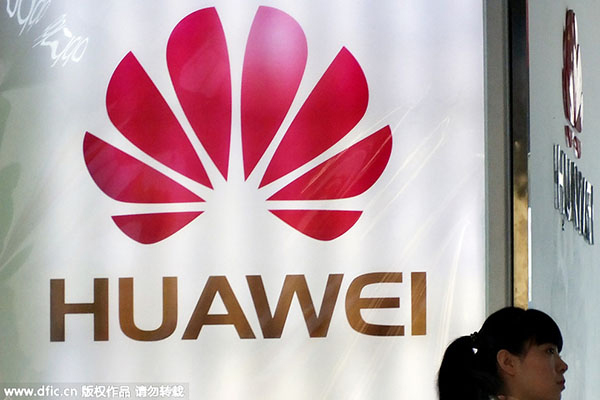 A customer walks past a store of Huawei in Yichang city, Central China's Hubei province, Oct 7,2015. [Photo/IC]
Huawei Technologies Co Ltd has turned to a former Nokia and Lenovo executive to steer and maintain its edge in the highly competitive smartphone market.
Colin Giles, former president of Nokia China and sales director of Lenovo Group Ltd, has been appointed head of global sales and entrusted with the responsibility of growing the company's device sales in overseas markets, said Richard Yu, chief executive of the consumer business group at Huawei.
The Chinese company is currently ranked third in the world in terms of smartphone shipments, behind Samsung Electronics Co Ltd and Apple Inc, according to research firm International Data Corp.
The Shenzhen-based company has the fastest-growth rate among the top five firms and shipped 26.5 million units globally during the third quarter, a 60.9 percent year-on-year surge, IDC said. Huawei accounted for 7.5 percent of the global smartphone market during the same period.
James Yan, a smartphone researcher at IDC, said Giles' strong sales experience and decade-long relationship with overseas channel partners will help Huawei expand its presence outside of China.
"Huawei has grown to be a major player in the handset market over the past few years," Yan said. He said the company needs a stronger international sales team to sell its products, especially when it is targeting the premium market dominated by Apple and Samsung.
Giles spent most of his sales and marketing career in Asia. He started to focus on China sales while heading Nokia's East Asia handset sales in the early 2000s.
He briefly joined Huawei's marketing team in mid-2013 before joining Lenovo as vice-president responsible for sales of Lenovo-branded devices in emerging markets and Motorola smartphones in developed countries such as the United States.
Giles ended an unsuccessful 15-month career in Lenovo in July days after Lenovo CEO Yang Yuanqing sacked Liu Jun, the head of the mobility unit, for poor smartphone sales. Giles was not immediately available for comments on his new job.
Huawei is taking aggressive steps in overseas expansion after industry consultancy Canalys gave the company the top slot in China sales, ahead of affordable device maker Xiaomi Corp.
Nicole Peng, director of Canalys China, said Huawei is shifting its focus to overseas sales after claiming the top position on its home turf amid a demand slowdown.