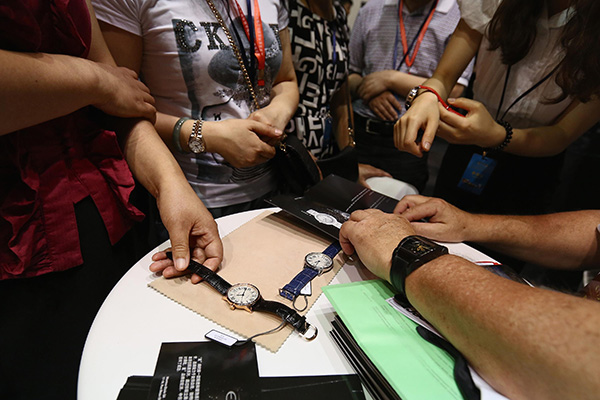 Potential buyers visit the Swiss-made watches zone at a luxury goods expo in Beijing. China is likely to remain the third-largest luxury goods market after the US and Japan by 2020. [Photo/CFP]
A major industry survey has claimed that the weakening economy is dousing the enthusiasm of Chinese visitors to travel long distances for luxury shopping.
Despite wealthy Chinese tourists spending $45 billion on luxury items in foreign countries last year, Euromonitor International said nearer destinations such as South Korea and Thailand are taking the place of more distant venues such as North America or Western Europe.
It said Chinese made more than 2 million trips to the United States last year, an increase of almost 12 percent on 2013. And Chinese tourists made 1.7 million trips to France in 2014, with many including shopping excursions to luxury retailers in their itineraries.
The global luxury goods are predicted to be worth $405 billion by 2019, the report said, but in the future, Chinese respondents suggested trips to the US and Europe are expected to plummet 30 percent by 2020 from the 2014 levels.
Fflur Roberts, head of luxury goods at Euromonitor, said because of the economic slowdown, the US and Japan will remain ahead of China as the world's largest luxury goods markets by 2020, but it will maintain the third position.
Roberts said Chinese are especially important revenue-drivers for luxury department stores such as Harrods in London, Barneys in New York and Galeries Lafayette in Paris, not to mention Lane Crawford and Harvey Nichols in Hong Kong.
"High import taxes within the mainland are a big incentive for shopping abroad-the same luxury handbag can often cost a third more in Beijing than it does in Paris."
The Euromonitor report said the weakening economy is unlikely to stop wealthy Chinese consumers from traveling to buy their luxury goods, but it might change their choice of destination as well as total spending, very much to the benefit of South Korea and Thailand.
Jiang Yiyi, director of the International Tourism Development Institute, said that as luxury brands continue to cut the price differences between goods in China and elsewhere, staying home to shop will help domestic retail figures.
Outbound trips made by Chinese amounted to 107 million in 2014, up 19.49 percent from 2013-around 80 percent of which were to neighboring destinations.