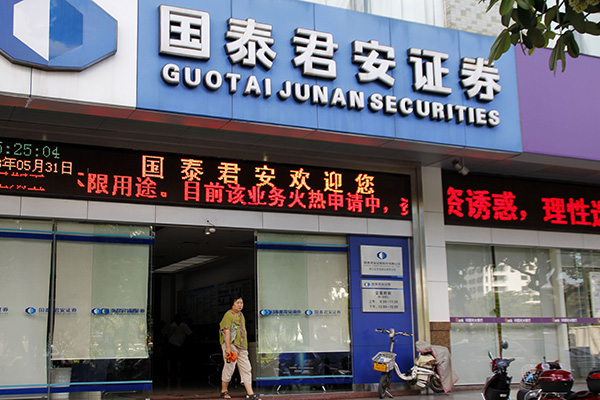 A branch of Guotai Junan Securities in Haikou, capital of Hainan province. [Photo provided to China Daily]
Guotai Junan International Holdings Ltd plunged 12 percent in Hong Kong after the brokerage said it cannot contact its chairman and chief executive officer Yim Fung.
The Hong Kong unit of one of China's biggest securities firms, Guotai Junan Securities Co, appointed temporary replacements after failing to reach Yim since Nov 18, the company told the stock exchange on Monday. The executive "currently cannot discharge his duties," the company said. Two calls to Yim's mobile phone went to his voicemail box.
The slide to close at HK$2.85 (36 cents) was the stock's biggest decline since August. The shares earlier fell as much as 17 percent.
Based in Hong Kong, Yim is a high-profile figure in the local securities industry, including through his comments to the media and roles with the Chinese Securities Association of Hong Kong. In the Chinese mainland, Yim is known as Yan Feng.
The developments at Guotai Junan International coincide with a stock market clampdown on the mainland that has seen officials at the securities regulator, senior staff at CITIC Securities Co, and a top fund manager caught up in investigations.
"It's hard to avoid that people may associate the incident with the recent crackdown on the financial industry by mainland authorities," said Ronald Wan, chief executive at Partners Capital International in Hong Kong. "Investors will be concerned about the company's operations. It will also affect sentiment over the brokerage industry as a whole as the industry is now under greater scrutiny."
Yim, aged in his early 50s, has been a member of the Inner Mongolia branch of the Chinese People's Political Consultative Conference, a government advisory body. Named director of the year by the Hong Kong Institute of Directors in 2012, he is also among the business people who have voted for chief executive in Hong Kong.
Yim has been vocal on topics such as the Hong Kong-Shanghai stock link and the Qualified Domestic Institutional Investors program, which allows Chinese investors to access overseas capital markets.
In the crackdown on the mainland, the most senior official to be probed is Yao Gang, a vice-chairman of the China Securities Regulatory Commission who oversaw initial public offerings before this year changing to supervise bonds and futures, according to Caixin magazine. He was the general manager of Guotai Junan Securities from 1999 to 2002.
At least 16 people have been arrested, are being investigated or have been taken away from their job duties to assist mainland authorities, according to statements and announcements compiled by Bloomberg. Those under investigation include Xu Xiang, known as "hedge fund brother No 1" for his knack of timing swings in stocks and for his top performance among money managers in China.
Those being probed at CITIC Securities include President Cheng Boming. No comment has been available from Cheng or others who have been named by State media or their companies as under investigation or assisting with investigations.
At Guotai Junan International, Qi Haiying, a director and a deputy CEO, will be temporary chairman, the company said. Wong Tung Ching, a director and a deputy CEO, will be temporary CEO.
The Yim announcement is "negative for the brokerage sector", said Andrew Clarke, director of trading at Mirabaud Asia Ltd.