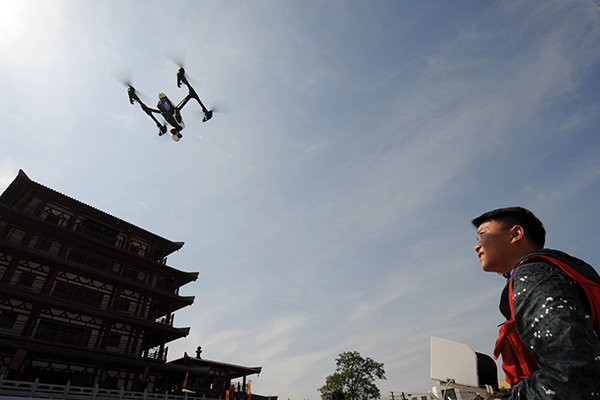 A man flies a drone for aerial photography in Bozhou, Anhui province. [Photo/China Daily]

New rules restrict where the remote aerial vehicles can be flown legally
For drone enthusiasts, places such as Tian'anmen Square in Beijing and the White House in Washington, DC, are not good places to toy around with their unmanned aerial vehicles.
Regulatory and security concerns let to leading drone manufacturer DJI Technology Co enhancing its flight system this week to make sure its drones keep out of restricted areas.
The Shenzhen-based DJI, which claims 70 percent of the world's drone market, said its Geospatial Environment Online system will provide DJI drone users with up-to-date guidance on locations where flights may be restricted by regulation. It can also raise safety concerns.
"For the first time, drone operators will have, at the time of flight, access to live information on temporary flight restrictions due to forest fires, major stadium events, VIP travel and other changing circumstances," the company said in a statement.
By default, drones manufactured by DJI will not fly into or take off in areas that may raise safety or security concerns. The new system will allow users who have verified DJI accounts to temporarily unlock or self-authorize flights in some of those locations "to accommodate the vast variety of authorized applications".
The system will be launched first in North America and Europe, while other regions will continue to use a "no fly zone" geo-fencing system the company rolled out more than a year ago.
The old system, using the global positioning system to determine the whereabouts of drones, automatically forbids drones from taking off or flying near major international airports and other sensitive areas, including most parts of downtown Beijing, where a long list of central government buildings and military facilities are located.
The geo-fencing system also prevents DJI drones from taking off in parts of the Xinjiang Uygur autonomous region.
Other vendors, including 3D Robotics Inc and Parrot SA, also developed measures, such as altitude limitations, to ensure safe flight.
But the mandatory no-fly zone configuration can be removed by degrading the operating system to versions that do not include the geo-fencing update. Various online aero-modeling enthusiast forums provide step-by-step guides on how to recover restriction-free systems.
China is yet to announce regulations on the use of drones, which has confused users and drone makers about when and where they can fly their toys.
Le Chi, a drone enthusiast who bought a drone in August, complained that the lack of regulations is hurting drone users' rights.
"I have no idea where I can fly it right now. A lot of places, including my own neighborhood, do not allow me to play with my drone and I do not have a single line of regulation that I can use to defend my right," Le said.
She Shuanglin, a researcher at Beijing-based Analysys International, said a clearer regulation will help to grow market demand in the long run.
"A clearer attitude from the industry watchdogs will certainly help the undecided buyers to reach into their pocket for a drone," She said.
A DJI drone crashed on the lawn of the White House earlier this year, triggering a global debate on drone security and stricter rules on the use of unmanned flying objects in the United States.