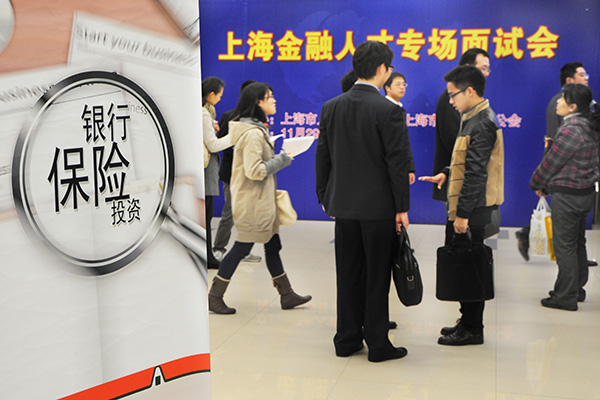 A talent recruiting fair in Shanghai targeting people in the banking, insurance and investment sectors. [Photo provided to China Daily]
Stagnating salaries and highly paid jobs in online financial sector have fueled cycle of departures
An unprecedented wave of executive departures has hit major Chinese banks.
The exodus threatens to cast a shadow over the sector at a time when profits are declining and bad loans are rising amid the economic slowdown.
At least 52 executives, including those from leading State-owned lenders such as Bank of China and Construction Bank of China, have either resigned for personal reasons or moved on, media reports have estimated.
Stagnating salaries, and highly paid opportunities in private banking and the nascent online financial sector have helped fuel the cycle of departures.
"Internet financing companies have grown very rapidly in China, so it is natural that executives at traditional banks are leaving for the new companies that offer better-paid jobs," Wu Qing, deputy director of banking research at the Development Research Center of the State Council, said.
So far, 10 out of the 16 listed banks have reported that executive staff at president or vice-president level have resigned or left, according to public filings on China's stock exchanges.
These departures come as the banking industry struggles against strong financial headwinds.
Many of the leading State lenders reported that profits in the third quarter dropped below 1 percent while bad loans increased.
Intense competition from the rapidly growing private banking sector and the rise of online finance businesses also took a toll on traditional banks.
Still, the departure of senior executives has sparked speculation that hefty pay cuts imposed by the government last year as part of its austerity drive is starting to affect the industry.
"Previously, the impact of pay cuts was limited to the big bosses of the banks," Wu said.
"But now it could extend to mid-level executives as a result of this year's poor performance in a downward economic cycle."
Top executives at State-owned companies, including banks, could face salary cuts of up to 50 percent in austerity measures rolled out by the government in 2014, media reports have suggested.