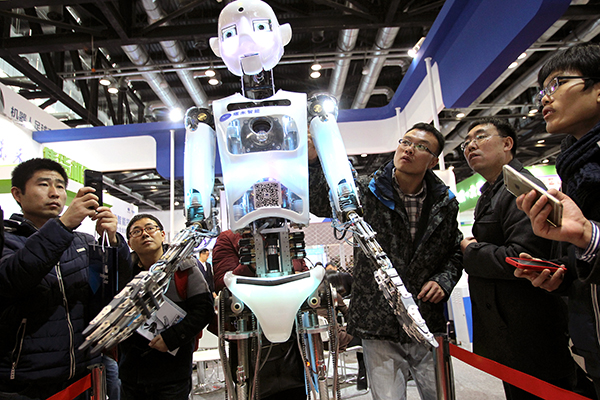 A robot made in China is displayed at the World Robot Conference 2015, which opened in Beijing on Nov 21, 2015. The conference has attracted more than 100 experts. [Photo/China Daily]

Sharing of know-how will help foreign firms tap into market, vice-president says
Vice-President Li Yuanchao encouraged overseas robotics companies on Monday to share technologies with China-based vendors, saying that international cooperation will help foreign companies tap into China's huge market.
Li said he hopes that "industry leaders" in Europe, the United States and Japan will be open to technology cooperation with China, the world's second-largest economy, which buys one-fourth of all robots each year.
"Although China is the world's biggest market for robots, it is lagging behind in advanced robotic development. ... The country will be more open to overseas experts and enterprises so they can conduct joint-development (with local scientists)," the vice-president told an industry expo in Beijing.
China became the world's largest robotics market last year by the number of products in use.
At least 800,000 robots will be put into use in Chinese factories by 2020, according to the Ministry of Industry and Information Technology. Surging demand will create more than 100 billion yuan ($15.7 billion) in turnover by then.
President Xi Jinping wrote in a congratulatory letter sent to the expo that China is willing to work with the rest of the world in developing state-of-the-art robots.
China is looking at robots to improve efficiency in manufacturing sectors ranging from automobiles to textiles.
It currently relies on overseas giants such as ABB Switzerland Ltd and KUKA AG in Germany to provide high-end robots used in the automobile manufacturing, electronics and logistics sectors.
Luo Jun, the executive president of the Beijing-based International Robotics and Intelligent Equipment Industry Alliance, said that robots made in China account for only 20 percent of the market share nowadays, and that their presence in high-end sectors is significantly lower.
"It will not be easy for local companies to replace imported devices without overseas technology assistance," Luo said. Because of huge demand, overseas giants may be willing to provide some technologies in exchange for market shares in China, Luo added.
Wang Tianran, an academician at the China Academy of Engineering, said that the aging population and the increasing income of Chinese families are set to boost sales of service robots that can conduct such tasks as cooking, monitoring blood pressure and helping senior citizens.
"This is a young market and will witness high double-digit growth," Wang said.
Full text: Chinese Vice President Li Yuanchao's opening remarks at the World Robot Conference 2015