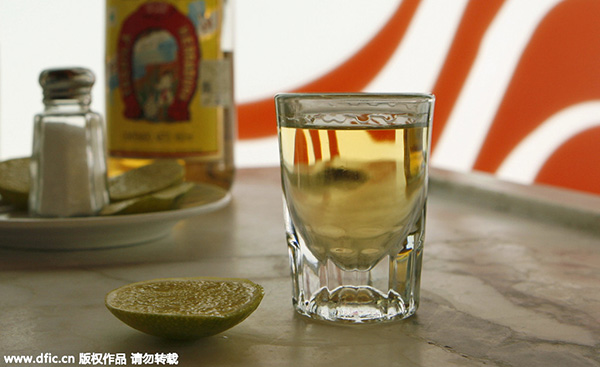 A shot of aged Tequila Herradura with a lemon and salt fixings sit on a bar in Mexico City, Mexico, Aug 28, 2006. [Photo/IC]
For many consumers in Guizhou province, tequila is little more than an exotic liquor, best compared with the iconic local Chinese spirit Moutai.
But it may not be long before they list the distinctive product from Mexico-made from the fermented juice of agave plants-among their favorite drinks, after local officials agreed to promote the fiery drink in the province.
Two agreements have been signed: one with Agave Conquista, considered the world's only organic Mexican tequila-producing "chateau", and the other with Mexican jockey club Amccra Caballo Raza Azteca to bring its equestrian skills to Wudang district in Guiyang, the provincial capital.
"The local environment is suitable for horse riding," said Agustin Becerril Nuding, secretary-general of the jockey club.
"We plan to develop the country's largest riding base in Guizhou, and eventually set up the club's largest Asian horse-breeding and training center here."
Daniel Verdugo, Agave Conquista's director in Asia, insisted: "A jockey club cannot be complete without tequila to drink."
The chateau and jockey club then plan to expand their Chinese market from Guizhou.
Officials say they were immediately impressed with the province's strong local-spirit culture.
"I found that in Guizhou, alcohol is a necessity for social and business banquets," Verdugo said.
"Local people traditionally prefer baijiu, but this only made me see the growth potential for tequila, as it is hard liquor with a similar taste."
Agave Conquista first became available in the Chinese market in 2013, and through the rapid development of a network of distributors and bars in Shanghai and Guangdong province, officials from the company started realizing what a potential market they might have here.
The two countries formally signed agreement to increase tequila imports, with the ambitious target of making China tequila's second-largest market after the United States within five years.
Mexico's attempt to promote tequila in Guiyang, however, comes as other foreign alcohol sales have been plummeted in China, largely due to the government's austerity drive and anti-graft campaign in addition to a slowing economy, which has seen public liquor consumption shrink.
Nonetheless, drinking remains a long-standing part of Chinese culture. The country consumes about five billion liters of liquor annually, but it remains dominated by baijiu, the traditional Chinese spirit.
Despite the odds, the Mexicans are confident of grabbing market share for their own fire water.
"Tequila embodies the culture, spirit and heritage of Mexico, just like Moutai does in China," Verdugo said.
"We plan to make Guiyang our distribution center in China and create long-term cooperation with officials in Guizhou."
As well as tequila, Mexico also plans to export other agriculture products such as corn, meat, and fruits to Guizhou, with the strong backing of the two countries' governments.
Similarly, Guizhou will export more local products to Mexico.
Zeng Jun in Guiyang contributed to this story.