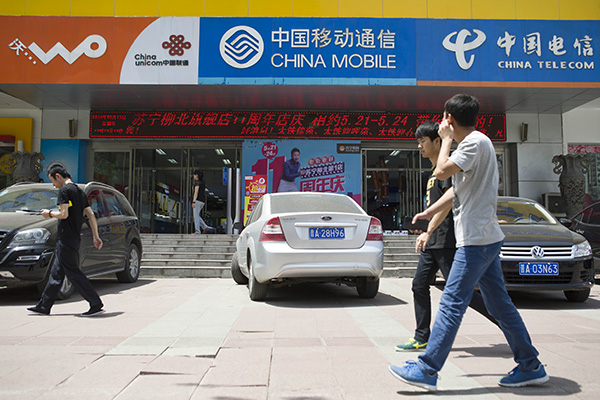 Pedestrians walk past a telecom services outlet in Taiyuan, Shanxi province. [Photo/China Daily]
China's big three telecom carriers find themselves being squeezed after rolling out high-speed 4G technology.
Mounting pressure from the government and growing dissatisfaction from customers have added to the problems facing State-owned giants China Mobile Ltd, China Unicom (Hong Kong) Ltd and China Telecom Corp Ltd.
"The expansion of 4G networks has triggered public demand for increased data traffic, which is growing quickly to offset losses in voice calls and text messaging," Fu Liang, a veteran independent telecoms expert, said.
"But telecom operators are under intense pressure to improve Internet speed at lower prices. This will continue to nibble away at their revenue and profit," he added.
In April, Premier Li Keqiang made it clear that the country's Internet services were "too slow" and that they cost "too much".
His comments prompted the Ministry of Industry and Information Technology, the sector's regulator, to announce plans to cut mobile data charges by a third before next year.
State-owned telecom carriers quickly rolled out new low-price packages for customers. Many involved cheap Internet services after midnight, triggering widespread complaints from customers. In a move to rectify the p roblem, day-time fees were reduced.
Then from Oct 1, customers were allowed to carry over unused data allowances into the following month, a significant change to previous policies. Yet days later, consumers started complaining that their data allowances had been cut. A monthly data package, for instance, would only last two weeks, they said.
Customers blamed the big three carriers for miscalculating data fees. The State-owned companies pointed out that 4G had produced faster Internet speeds.
"The reluctance of State-owned carriers to lower prices on data arises from the fact that it is now generating the bulk of revenues in the 4G era," Xiang Ligang, an independent telecom analyst and founder of the industry website cctime.com, said.
"But the rollover plan will harm the business. It will significantly reduce revenues and profits," he added. "The impact will be obvious in November."
During the first nine months, China Mobile reported revenue of 512 billion yuan ($80 billion), up by 6.5 percent compared to the same period last year.
Data traffic surged by 151 percent although "voice call durations" shrank by 1.2 percent and text messages declined by 6.4 percent.
It was a different story at China Unicom. The carrier saw revenue drop by 1.6 percent while China Telecom posted year-on-year growth of only 1 percent
Even so, the regulator is looking to give private investors a bigger role in an industry controlled by State-owned companies.
"Introducing private capital will give yet another boost to (the sector), especially during a period of slowing economic growth," Miao Wei, the minister of the MIIT, said.
The ministry is poised to grant official licenses to private enterprises early next year, allowing them to offer telecom services by renting 4G networks from the big three carriers.