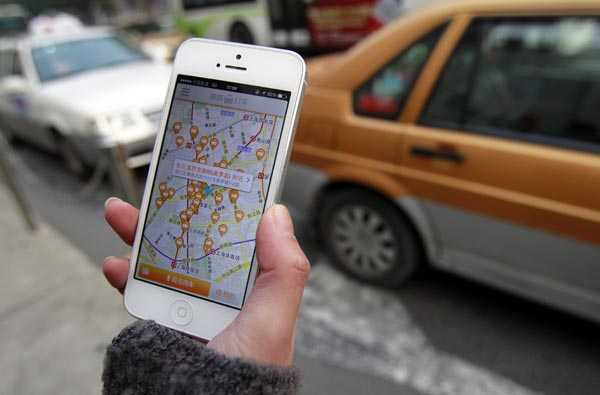 A customer checks his smartphone app that eases finding a taxi. [Photo/China Daily]
BEIJING - Chinese ride-hailing and sharing app Didi Chuxing continued to dominate the private car market in the third quarter of 2015 by both the number of active users and cities covered in China, data showed Tuesday.
According to the latest report by consulting firm Analysys International, Didi owned 83.2 percent of China's existing active users for private car services in the third quarter.
While its rivals, Uber, the US ride-hailing service company which has been expanding business in China, and CAR Inc, China's leading auto rental service provider, took 16.2 percent and 13.4 percent, respectively.
By the end of October, Didi's private car service was available in 199 cities across China, while its rivals Yidao Yongche and CAR Inc cover 98 and 66 cities, respectively.
Didi has maintained a dominant market position since the launch of its private-car hailing business late 2014, according to the report.
Formerly known as Didi Kuaidi, the company has rolled out a wide variety of services that extend to online taxi-hailing, chauffeur, ride-sharing and bus-booking services.
Didi is currently valued at $16.5 billion after CEO Cheng Wei announced in September the startup had secured its next round of funding -- to the tune of $3 billion.