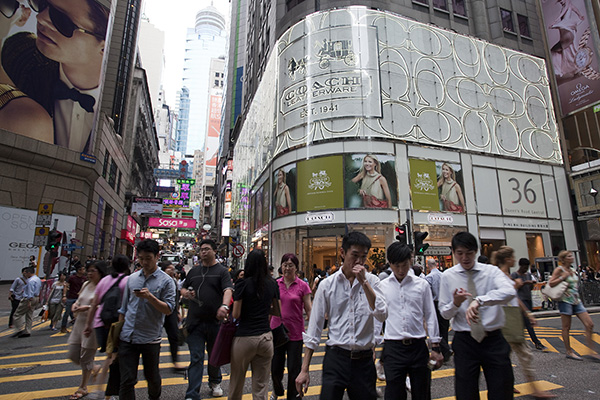 Pedestrians walk past a Coach Inc store on Queen's Road in the Central district in Hong Kong. [Photo/Agencies]
In Hong Kong, fancy purses are out, sneakers are in.
The United States luxury handbag maker Coach Inc opened its four-story flagship store in the heart of Hong Kong's Central district in June 2008, with a celebrity-studded, champagne-fueled party.
In August, the company quietly terminated its HK$5.6 million ($723,000) per month lease and Adidas is moving in-paying 23 percent less in rent, according to Colliers International Group Inc. This is not an isolated case.
Russell Street in Causeway Bay, which boasted the most expensive shop rents in the world until New York's Fifth Avenue overtook it a year ago, is undergoing a major transformation.
A location formerly rented by Emperor Watch & Jewelry Ltd that sold diamond-studded Cartier watches is now home to discount cosmetics retailer company Bonjour Holdings Ltd that sells HK$58 packets of Hello Kitty false eyelashes.
Next door, rival Colourmix Cosmetics Co has moved into a space vacated by Swiss watchmaker Jaeger-LeCoultre.
As Kering SA's Gucci, LVMH's Louis Vuitton and jewelry chain Chow Tai Fook Jewelry Group Ltd bargain for lower rents or close stores amid a decline in mainland tourists who had underpinned their sales, mid-tier retailers are filling the gaps.
Brands that appeal to the broader market are taking advantage of declining leases to move into some of Hong Kong's most coveted retail locations.
"The fallout in the watch and jewelry industries, as well as luxury sector, is paving the way for fast fashion brands to expand," Tom Gaffney, head of retail at Jones Lang LaSalle Inc in Hong Kong, said.
Retail rents started falling after the city's appeal as a shopping paradise for mainland tourists was hit by a slowing mainland economy, and Beijing's austerity and anti-corruption campaigns.
This has made potential customers wary of splurging on luxury goods. Hardest hit have been sales of watches and jewelry, where sales have fallen for the past 11 months.
"Shopping habits are changing," Marcos Chan, head of research for Hong Kong, Taiwan and Macao at CBRE Group Inc, said.
"A couple of years ago it was not uncommon to see mainlanders go into watch stores and ask for 10 Rolexes. Now we hardly see people even buying one," he added.
While luxury brands are abandoning street-front locations, they are maintaining their presence in high-end malls.