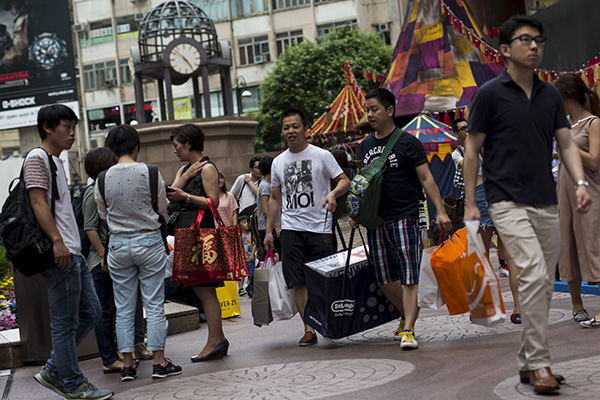 Mainland tourists carry shopping bags as they walk through Hong Kong's shopping district Causeway Bay. [Photo/agencies]
Initiative aims to bring in 100,000 travelers over the next year, say experts
The Hong Kong Tourism Board plans to ride piggyback on the success of a box-office-busting comedy to attract mainland tourists to the city.
It has authorized Tongcheng Network Technology Co Ltd, China's fourth-largest online travel agency based in Suzhou, Jiangsu province, to work with Xu Zheng, director of the comedy movie Lost in Hong Kong that captures the many moods and sights of the city, and design a customized tour to suit travelers from the mainland.
Zoe Lo, chief representative of the HKTB's Beijing office, said the tourism initiative is aimed at attracting 100,000 travelers from the mainland over the next year.
Lost in Hong Kong is believed to have the potential to stimulate slack tourism in the city that has ceased to be the top choice of Chinese mainland tourists.
In a recent survey by Ctrip.com International Inc, China's largest online travel agency, 83 percent of respondents said they might be inclined to visit locations shown favorably in a movie.
Xu, who also stars in the film, said he hoped audiences would be encouraged to experience Hong Kong in person.
The new city tour route is part of Tongcheng's "Fantastic Hong Kong" program.
According to the Census and Statistics Department's figures, income of Hong Kong's tourist and exhibition industry dropped 4.2 percent year-on-year in the April-June quarter.
Liu Qing, Tongcheng's vice-president, said: "The company is expecting to spend over 10 million yuan ($1.57 million) to offer top-quality, low-priced Hong Kong tour products."
Liu said Tongcheng has been working hard at developing a range of travel options under different themes, including food, Hong Kong's natural scenery, and those aimed at families.
Both Tongcheng and the HKTB hope the new comedy will help renew tourist interest in the city.
Xu's last film, Lost in Thailand, set in Chiang Mai, proved popular with Chinese audiences. Officials said the film sparked strong interest in Thailand among tourists, and led to a rise in bookings for some of the activities like elephant rides and fish spas shown in it.
According to the Tourism Authority of Thailand, the number of visitors from China increased 68 percent from 2.7 million in 2012 to 4.7 million in 2013.
Officials attributed the rise partly to the movie's success.