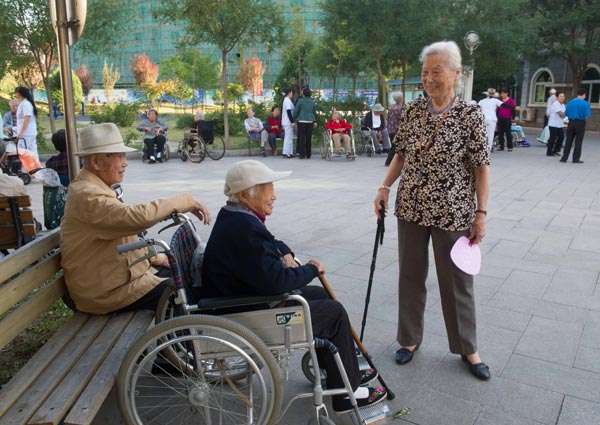 Senior citizens chat at a retirement home in Beijing. [Photo/Xinhua]
Although 22 provinces in China have given away more funds than they have received in past two years, there is no "payment" issue, China Business News reported, citing Li Zhong, the spokesman of the Ministry of Human Resources and Social Security.
The current deficits were mainly because the country has increased the sum of money the retirees can get and the number of aged persons has also risen.
However, Li said that, nationally, the total income of pension fund was still 210 billion yuan ($32.77 billion) more than the expenditure in the first 10 months of this year.
He added that the cumulative balances of pension funds in most provinces were still equivalent to expenditures in more than eight months.
More importantly, fiscal subsidy is the legal source for pension fund income, Li said. Fiscal subsidies and contributions from individuals and enterprise can finally make a balance for the pension fund.
From 2002 to 2014, fiscal subsidies to pension fund totaled 2.07 trillion yuan.
To defuse the pressure on pension payment, the ministry will diversify and improve pension investments, and coordinate surplus and deficit across regions to balance supply and demand, Li added.
Earlier, China said it would let pension funds under local government units to invest in the stock market for the first time, a move that might channel hundreds of billions of yuan into the country's struggling equity market.