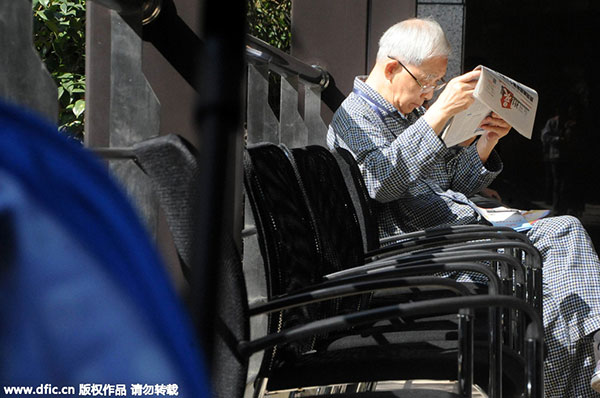 A senior man reads a newspaper in Shanghai, Oct 25, 2014. [Photo/IC]
Up to 600 billion yuan ($97 billion) could be channeled into China's struggling equity market after the Cabinet gave final approval on Sunday to allow pension funds access to the stock market.
These funds will be able to invest up to 30 percent of their net assets in the country's stocks, equity funds and balanced funds, according to the finalized rules published by the State Council.
A draft rule was publicized for public consultation on June 30. The Ministry of Human Resources and Social Security said late last month that a majority of the public supported the proposals, including the 30 percent ceiling.
The rule was published on Sunday after shares slumped by nearly 12 percent last week, the worst weekly performance since June.
China's pension funds, which account for about 90 percent of the country's social security fund pool, had net assets of 3.5 trillion yuan by the end of last year, according to the ministry.
Spokesman for the ministry Li Zhong has said that more than 2 trillion yuan of the net assets can be used for investments, which means in theory that about 600 billion yuan could potentially be invested in the stock market.
The vast funds were previously only allowed to be deposited in banks or invested in Treasury bonds, which give very low yields.
Officials said the latest move is an important step to diversify the funds' investment channels and enhance their yield to address the growing number of retired people.
"The pension funds may channel significant liquidity into the stock market, which will boost market sentiment in the short term and will help adjust the structures of investors in the A-share market," said Li Daxiao, chief economist at Yingda Securities Co.
"Access to the stock market will also help pension funds to retain and increase value."
However, some analysts warned that in the short term it is unlikely that 600 billion yuan will flow into the market.
China's pension funds are a patchwork system mostly overseen by city and county-level governments, and it has been difficult to consolidate them even at provincial level.
Yang Yansui, director of the Center for Employment and Social Security at Tsinghua University, said it is not realistic to expect combined pension funds that can be invested in the equity market to reach 600 billion yuan in the short term.
Wu Yiyao in Shanghai contributed to this story.