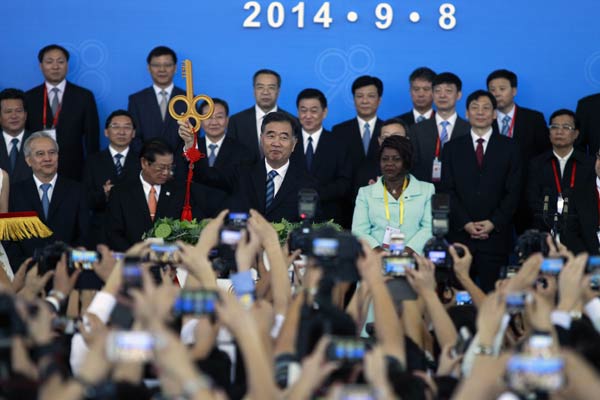 Vice-Premier Wang Yang (center) holds a golden key to signal the opening of the 18th China International Fair for Investment and Trade on Monday. Zhu Xingxin / China Daily
Service sector will be steadily opened-up
China will further open its investment and cooperation system and optimize the environment for foreign investment, Vice-Premier Wang Yang said on Monday.
"China's policy of investment and cooperation will be kept in the long run, although the inbound and outbound investment situation is witnessing big changes," said Wang.
Wang made the remarks at an international investment forum during the 18th China International Fair for Investment and Trade, which opened on Monday in Xiamen, Fujian province.
The annual international investment event provided more than 30,000 potential investment projects and attracted companies and government organizations from 54 countries and regions, according to the organizers.
The competitiveness of the domestic companies in the world's second-largest economy has grown remarkably and there are fundamental changes that foreign investment will have to adapt to, said Wang.
Traditional manufacturing businesses are returning to developed countries and developing economies are boosting efforts to introduce foreign investment, which has affected the international capital flows, he explained.
But he said, "We will not ignore the role that foreign investment plays in the Chinese economy and will not reject foreign-invested companies."
However, according to Wang, China will not simply introduce foreign capital in the future, instead it will look to introduce advanced technology, managerial experience and intelligence resources and build various market-oriented systems in accordance with international practices.
"We will relax the restrictions on foreign investments, and steadily open-up the finance, education, culture and healthcare markets," Wang said.
According to Wang, the Chinese government will strengthen efforts to protect foreign investors' interests by tackling the problems of monopolies, commercial bribery and copyright infringements to improve the domestic investment environment.
This year marks the 30th anniversary of China's first group of national-level economic and technology development zones, and Wang said such zones need to be further transformed and upgraded.
"China's economic and technology development zones should be driven by innovation and they should make better use of foreign investment for their future success," Wang said.
Such zones are also being encouraged to enhance communication with their foreign counterparts to promote new growth models, according to Wang, who pointed out that China's 215 national-level economic and technological development zones realized one-fifth of the country's foreign investment and one-eighth of its GDP in 2013.
Commerce Minister Gao Hucheng said the Chinese government will adhere to its policy of mutual benefits and strive to build an open economic system, actively working with international organizations and governments to promote a healthy recovery of the global economy.
"The annual international investment fair has proved to be an efficient platform to create investment and cooperation opportunities. I hope all participants will take full advantage of this event to boost investment and cooperation," Gao said.
Gao urged domestic economic and technological development zones to play an active role in boosting international investment.
"Such development zones have not only promoted the country's development they have also become an important platform for international investment," Gao said.
By attracting foreign direct investment, catalyzing the development of industrial clusters and adopting new technologies and management practices, the economic and technology development zones have played a key role in China's economic success, said Cai Jinyong, chief executive officer of the International Finance Corporation.
"Successful programs, which can contribute to the long-term future of the zones, are the ones that focus on market demand and are integrated into the domestic economy. The development of any zone should be based on an identified market opportunity," he said.