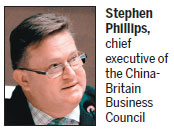 Stephen Phillips, chief executive of the China-Britain Business Council, told China Daily that he expected continued investment interests in China from British companies across a wide range of sectors.
"This is inevitable in a country as large and as diverse as China. Clearly different regions of China are at different states of development," he said.
The London-based CBBC is the leading organization that helps British companies grow and develop their business in China. Its mission is to help companies "access the full potential of the fastest growing market in the world".
"We see a lot of interest in areas meeting the needs of Chinese consumers, such as healthcare, the environment and clean technology, education and Chinese outbound investment," Phillips said.
To promote the United Kingdom's expertise in these areas, Phillips is leading a British delegation to visit the 18th China International Fair for Investment and Trade in Xiamen this week.
"Our program will include a China outbound investment seminar, supporting a major e-commerce event being organized by CIFIT, as well as meetings with a range of provincial delegations from across China," he said.
CBBC has attended the China-Eurasia Expo in Urumqi, capital of the Xinjiang Uygur autonomous region, early September, and will take part in the 2014 China (Jilin)-Europe Business Meeting in Changchun, Jilin province, in mid-September, said Phillips. "It is notable, just in the first half of September, how diverse the regions we will cover are," he said.
The UK is China's second-largest trading partner in the European Union and a major destination for China's overseas investment. Two-way trade hit $70 billion last year.
UK exports to China have more than doubled since 2009, and are growing faster than French and German competitors. Last year UK exports to China averaged more than 1 billion pounds ($1.65 billion) each month, according to the British government.
"This is all part of our sustained effort - along with all of our members and partners to boost trade and investment between our two countries," said Phillips.
British companies have a long history in investing in China. While Chinese investment in the UK has made huge progress recently. In the past two years, Chinese companies invested more than $13 billion in the UK, surpassing their total UK investment over the previous three decades.