Fujian province will utilize its inherent advantages to strengthen the development of the 21st Century Maritime Silk Road, top local government officials said during the 2014 International Investment Forum, held as part of the ongoing 18th China International Fair for Investment and Trade in Xiamen.
"Located in East China, Fujian has the advantage of being the starting point for the ancient maritime Silk Road, and it also has the responsibility for recreating its glory in the 21st century," said Zheng Xiaosong, the deputy governor of Fujian, who is also the secretary-general and deputy director of CIFIT's organizing committee.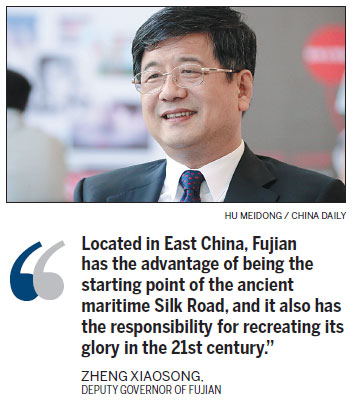 He made the remarks during his opening statement at the 2014 IIF.
The old maritime Silk Road began in Quanzhou, home of the East's biggest port, during the Song (960-1279) and Yuan (1271-1368) dynasties.
Around 7.9 million overseas Chinese can trace their roots back to Quanzhou, and more than 90 percent of them are living in Southeast Asia.
Fujian needs to take advantages of Quanzhou's rare historical opportunity for economic development since the central government is behind the development of a maritime Silk Road economic zone and it would be good if overseas Chinese also got involved, he said.
"Fujian boasts abundant marine resources," said Zheng, adding that the sea area in Fujian, according to international water lines, is 136,300 square kilometers, while the continental coastline is over 3,320 kilometers, the second-longest in China.
The province is facilitating the building of a transport network and stepping up cooperation with countries and regions along the proposed 21st Century Maritime Silk Road, he said.
As part of the forum, a symposium titled: "Cooperation, Development and Win-Win: Jointly Building the 21st Century Maritime Silk Road," that highlighted the history of the old maritime trade routes was also held.
Building a 21st Century Maritime Silk Road, was raised by President Xi Jinping during his visit to members of the Association of Southeast Asian Nations in October 2013.
The initiative has generated a lot of interest from the countries concerned, and received a lot of attention worldwide.