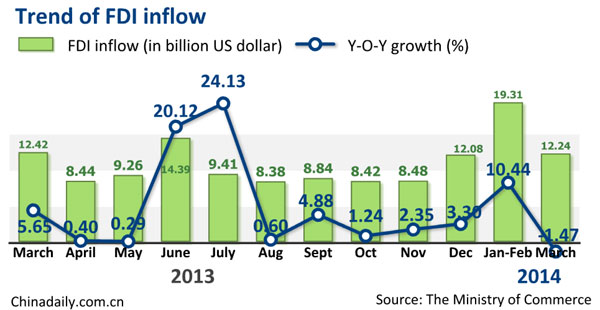 BEIJING -- Foreign direct investment (FDI) into the Chinese mainland edged down 1.47 percent in March, the first drop in over a year, reflecting challenges for overseas investors in an increasingly sophisticated environment.
China drew $12.24 billion in FDI last month, and the volume for the first quarter of 2014 came in at $31.55 billion, an increase of 5.5 percent from a year earlier, the Ministry of Commerce said on Thursday.
Around 55.13 percent of the FDI went into the country's service sector, and that to the manufacturing sector dropped 11.7 percent to $11.64 billion, accounting for 36.88 percent of the total.
In the first quarter, FDI from major Asian economies saw steady growth, including a 7.84-percent rise from ASEAN nations and a 162.13-percent surge from the Republic of Korea.
However, investment from Japan shed 47.18 percent, while that from the United States and European Union fell 1.91 percent and 24.52 percent, respectively.
China's outbound direct investment by non-financial firms dropped 16.5 percent to $19.9 billion in the first quarter, the ministry said.