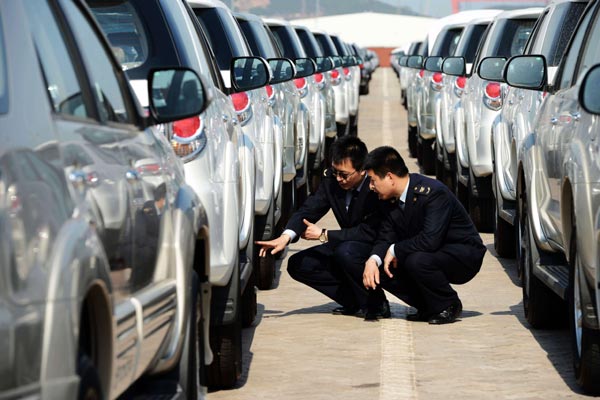 Inspectors check imported cars at a port in Qingdao, Shandong province. Total trade in dollar terms edged up 0.2 percent in the January-May period, far below the 7.5 percent target. [Photo/China Daily]
Relations with ASEAN still on strong footing, says commerce ministry official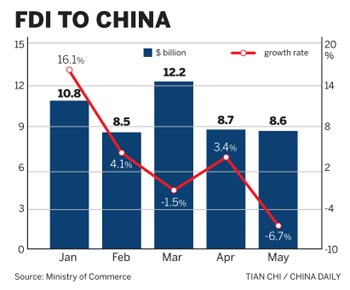 Stressed ties between China and some Southeast Asian countries haven't affected investment flows, even though foreign direct investment in the world's second-largest economy significantly eased in May, a senior commerce ministry official said on Tuesday.
"Fluctuations of investment between China and the Association of Southeast Asian Nations this year were mainly caused by last year's base figures. Some big projects last year, which were not repeated this year, accounted for the changes," said Shen Danyang, spokesman for the Ministry of Commerce.
"But the drop of ASEAN's direct investment in China so far this year isn't a trend. On the whole, China's economic cooperation with ASEAN was not affected by the factor of relations with neighboring countries," Shen said.
He added that China-ASEAN economic cooperation, bilateral trade and two-way investment will "maintain fast growth momentum".
In the January-May period, ASEAN's direct investment in China plunged 22.3 percent from a year earlier to $2.54 billion, said the ministry. In the same period, overall foreign nonfinancial direct investment in China rose 2.8 percent to $48.91 billion.
In May, FDI inflows slumped 6.7 percent year-on-year to $8.6 billion, the biggest drop since January 2013.
Ten Asian economies, including Singapore, Japan and the Philippines, account for the bulk of China's FDI inflow.
In ASEAN, Singapore is the major force in investment in China.
"ASEAN's direct investment accounts for a small share of China's total FDI. The decline in the first five months was more likely caused by some big projects last year. Economic ties between China and the 10 economies are displaying good momentum," said Yang Liqiang, a researcher at the University of International Business and Economics in Beijing.
Yang added that about two or three years ago, FDI inflows reached a "plateau" featuring only small increases or declines.
"China's FDI flows will maintain steady growth with no sharp expansion. The economic recovery in the United States and the European Union remains weak, constraining cross-border FDI flows. China's investment environment is also changing as the costs of labor, raw materials and environmental compliance keep rising, challenging investment in some industries. China's economic growth slowdown also affects the willingness of global investors," Yang said.