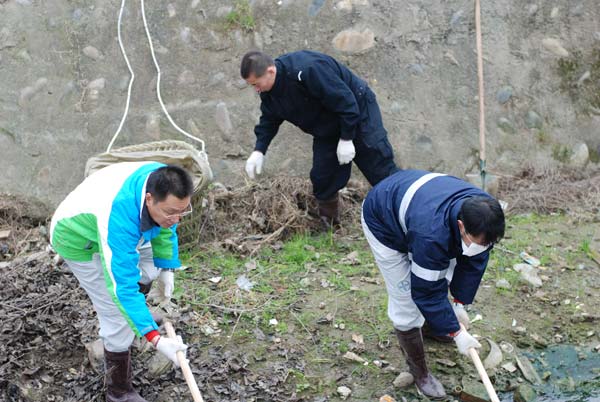 Volunteers from Bayer China help level land in Jiangyou, Sichuan province, after a massive earthquake destroyed farmland. Provided to China Daily
Like millions of Chinese people, Beijing resident Gong Ziwei first gained real understanding of volunteer work in 2008, the year China hosted the summer Olympic Games and a huge earthquake devastated parts of Sichuan province.
About 100 million people were involved in voluntary work that year, almost 1 in every 13 Chinese people.
When the earthquake struck Sichuan in May 2008, Gong was working for Bayer China in an administrative role. The German pharmaceutical company sent a team to Jiangyou, a small city that had been badly hit, to distribute free drugs and rebuild sanitation facilities, and to help with primary school education, care for the elderly and do other community work.
"The experience was life-changing," Gong said. "Three years later, I quit my job, joined the consultancy and became a professional volunteer. We have a good team. The industry is new and very promising," she said.
Gong works for Horizon Corporate Volunteer Consultancy, a leading Chinese voluntary activity planner that provides consultancy services to big corporations.
Gong has noticed that an increasing number of companies in China are seeking professional advice on voluntary work. And, according to the feedback received by her company, demand is growing fast.
"China's corporate volunteering has a short history of only one decade," said Wang Zhongping, founder and director of the consultancy. "Compared with developed countries, which have decades of experience in this field, China is still very inexperienced."
HCVC is blazing a trail. It has attracted about 100 clients from Fortune Global 500 companies, has helped the governments of Beijing and Shanghai build city volunteer service associations, and won several professional awards, including the Make A Difference merit award, presented by the Hong Kong Institute of Contemporary Culture.

Wang said that although most of the company's clients are multinationals, the number of State-owned and private sector clients is picking up.
"Many Chinese companies have done a lot with corporate social responsibility, in terms of the amount of money they have donated, but not many had considered volunteering as their major CSR work," Wang said.
International companies generally have a longer history of staff volunteer programs. "They have a mature corporate culture of encouraging employees to participate in voluntary work," he said, adding that it isn't a case of one approach to CSR being better than any other. "I'd like to think they are at different phases of development."
He said the situation is changing fast and that demand from Chinese companies will rise markedly in the near future.
"Many Chinese companies have already engaged in strategic thinking about voluntary work. For example, Alibaba, Tencent and Baidu all have set their own foundations for public welfare."
The pattern of corporate volunteering is unlikely to make any great leaps in development, Wang said, but will continue to grow steadily. However, upsurges in activity can be expected during major events, such as the Olympics or World Expos.
As a company, HCVC hopes to move its business model away from organizational activities and to provide a wider range of consultancy services, a more profitable role.
Gong said HCVC's business has been good so far because many companies lack knowledge of how to organize volunteer activities and how to encourage employees to participate.
"For example, (companies lack) the communication skills to get in touch with underprivileged groups that need help from volunteers, and a clear vision of combining the companies' own strength with their volunteer activities," she said.
But while there may be a long way to go in terms of the nuts and bolts of organizing voluntary activities, the tide is turning when it comes to attitudes.
Corporate volunteering has become increasingly popular during the past few years as an important part of CSR, and has been growing in tandem with increasing social awareness of the business sector's responsibilities.
"Companies are starting to change, from only taking responsibility for their shareholders to society as well," said Li Yang, vice-president of the Chinese Academy of Social Sciences, at the launch ceremony of the institution's 2013 annual CSR report.
benyue@chinadailyhk.com