"When we are certain we have strong stories, the challenge for media professionals is seeking out new ways of spreading them. But that's not to say that good content is less important than the means of communicating it - all the new technologies and tools are like wings. They simply help important news stories to fly higher and further."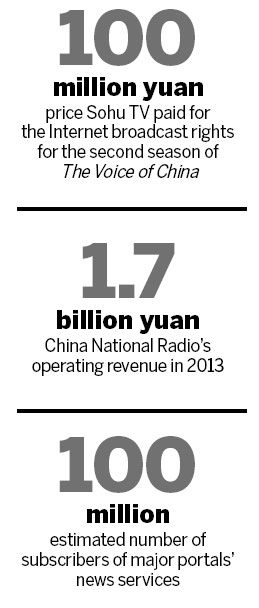 In 2013, the rapid development of mobile Internet prompted PC users to accelerate their migration to a "smart mobile terminal + app" mobile Internet environment dominated by major portals such as Sohu, Netease and Tencent. By the end of last year, the companies' news services had each registered more than 100 million subscribers.
Traditional media outlets, especially print, are under increasing pressure, and many are struggling to keep their heads above water. Wang Gengnian, president of the multilanguage China Radio International, said that as market forces begin to play an increasingly important role in the sector, integration has become the watchword for traditional content providers.
"The main problem is that a single-type media is a no-hoper. The media in many other countries has long moved toward integration and comprehensive development, while their Chinese counterparts still remain basically single-track operations. On its own, traditional media has found it difficult to manage the problems associated with branding and expansion of scale. When a media does not have a large footprint, it certainly won't attract a large market share, and poor market share means a nonexistent audience," he said.
A new growth source
Wang Qiu, president of China National Radio, said that radio is the medium probably least affected by the rise of new media. Although the business environment for radio stations had been deteriorating since the late 1980s, the past decade has seen business picking up, mainly because of the rise of the car. As private car ownership has soared in China, radio news, drama, music and, crucially, travel bulletins have given the medium a new lease on life. For Wang, the convergence of new media is a likely new source of growth.
"Unlike newspapers, radio has always been a 'one-off' medium - once a program had been broadcast, it left no traces. Although an enormous amount of information was provided, it was quickly washed away by updated, fresher information. The Internet provides a huge amount of storage space, though. So long as customers install an app on their phones or surf radio station websites, they will have access to their favorite programs, even in areas where it's impossible to receive radio waves. This is what I call a 'complementary advantage'," he said.
But for some traditional media outlets, the main concern is how to convince people to log on to their websites. Ouyang Changlin, one of the vice-chairmen of the Chinese Television Artists' Association and a former president of Hunan TV, said that now huge Internet portals such as Baidu, Alibaba and Tencent have captured the online landscape, traditional media outlets can't simply move their content onto the Web. It makes no sense to have TV and radio stations streaming online, and the low audience numbers won't cover the costs, he said.