Outsourcing of services to NGOs is a growing practice, but bottlenecks remain, reports Tang Yue in Beijing.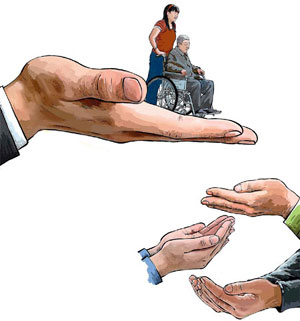 Last year was a bittersweet one for Beijing-based Maple Women's Psychological Counseling Center.
There was bad news when an overseas foundation, which had been the non-governmental organization's major financial backer for many years, ceased its donation after deciding to change tack and refocus its efforts on Africa.
Then came the good news. After 24 years, studded with compromises and setbacks in dealing with the authorities, the services of the grassroots organization were funded by Beijing's local government for the first time.
The NGO received 100,000 yuan ($16,000) to fund its hotline counseling service and a further 100,000 yuan for a program designed to help migrant workers interact with their children more effectively.
Although the organization still struggled to make ends meet, the staff was "thrilled to learn about the positive change".
However, the money was not the main cause of their joy.
"To be honest, we just gave it a shot when applying; we didn't have any expectations. The successful bid really came as a surprise," said Wu Qunfang, a project manager.
"But it indicates that the government acknowledges the value of our services. The money serves as solid proof."
The two programs were among 363 outsourced by the Beijing government last year, resulting in NGOs collecting fees of 52.96 million yuan.
While grassroots organizations are happy with the trend, which has helped to ease their financial straits, local governments also benefit as it lightens their load.
"It is impossible for the government to provide all kinds of services to citizens, especially in a city as big as Beijing," said Wang Xiangping from the Beijing Social Construction Office, which is in charge of the local government's outsourcing project.
"The expertise and experience of NGOs really help us a lot," he said, adding that other outsourced work included an education program for the children of migrant workers and matchmaking services for the elderly.
From elderly care to crime prevention, the practice of outsourcing public services to civil society organizations has been growing in China during the past five years. The scale has risen from tens of thousands of yuan to hundreds of millions in the fiscal budgets of large urban centers such as Shanghai, Shenzhen and Beijing, said Wang Ming, director of the NGO Research Center at Tsinghua University in Beijing.
The central leadership has also repeatedly voiced its support for the transformation, with Premier Wen Jiabao backing the move at China's national civil affairs conference last month. "Some public services can be provided by NGOs, intermediate agencies and local communities. So, outsourcing should be properly adopted to save costs and improve the quality of services," said Wen.
In Beijing, widespread outsourcing started in 2010 as the government spent 43 million yuan on 398 programs. This year, the budget has almost tripled, rising to 120 million yuan, but that's still only enough to provide funding for around one-fourth of the 1,629 applicants.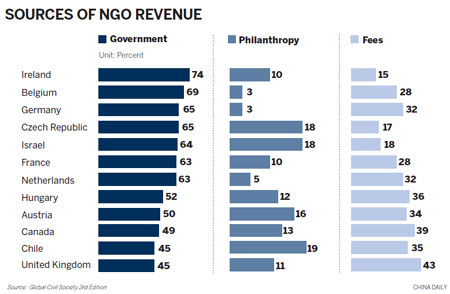 "Our judging panel really has a headache when choosing between so many good proposals," said Wang from the Beijing Social Construction Office. "Beijing's fiscal revenue was 300 billion yuan last year, so the money for outsourcing is still a very small portion of it. I believe that next year our budget will increase further."
Emboldened by its successful bid, Maple has applied to run the same two programs this year. Wu said she is pretty confident this time around and expects more government-financed services in the coming years.
But there's still a fly in the ointment - the "illegal" status of the organization. According to the current registration policy, organizations such as Maple are required to find a government department or agency to act as their supervisory body before they can legally register as an NGO. However, insiders say that it's almost impossible to find an agency willing to assume the role.