Chinese developer begins 1.7 billion pound London project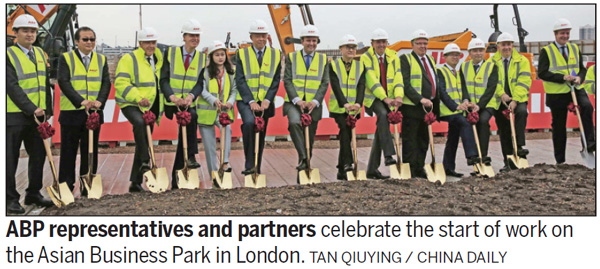 Beijing-based property developer ABP Group broke ground on its 1.7 billion pound ($2.2billion) Asian Business Park in East London's Royal Albert Dock on Wednesday, four years after the project was announced.
British and Chinese government officials hailed the development as evidence of China's continued confidence in investing in the United Kingdom, despite uncertainty around Britain's exit from the European Union.
Xu Weiping, chairman and president of ABP, said: "Today marks an important milestone in establishing London's next business district, at Royal Albert Dock, and promoting trade between London and China."
The project, which will transform 14 hectares near London City Airport into an office complex that will house several hundred companies, was revealed in 2013 by former London mayor Boris Johnson.
Things finally moved forward when China's State-owned construction firm CITIC became lead contractor, helping secure needed funds.
The project was endorsed by both local and central governments in the UK, partly because it will create 30,000 jobs during the next decade.
"It's very good news for jobs," said Greg Hands, the UK's international trade minister and minister for London. He said the Asian Business Park could"easily become the third commercial hub of London", joining its two established financial centers - the City, and Canary Wharf.
"The project here at Royal Albert Docks operates as a gateway, to further encourage Asian investment into London," Hands said.
Robin Wales, the mayor of Newham where the project will be built, said he expects the development to bring the area great benefits. He said his team worked closely with ABP during the past four years.
Liu Xiaoming, China's ambassador to the UK, said it accentuates the steady progress in cooperation between China and the UK.
"It highlights the vigorous growth of our bilateral relations, and that the confidence Chinese businesses have for investing in the UK remains unchanged."
ABP wants the development to be a hub for the UK subsidiaries of Asian companies. The firm recently signed an agreement with the Guangdong provincial government that means a private company will be set up on site aimed specifically at helping Guangdong companies expand into the UK.
Work on the first phase of construction, on an 11-hectare site, is set to end in 2018. The entire project should wrap up in 2026.
ABP Group, which was founded in 2003, is privately-owned and has a record of investing in large regeneration projects. The Asian Business Park in East London is ABP's first overseas project.