Merkel's visits to China aimed at forging 'special' ties
( Xinhua )
Updated: 2015-10-29 10:09:35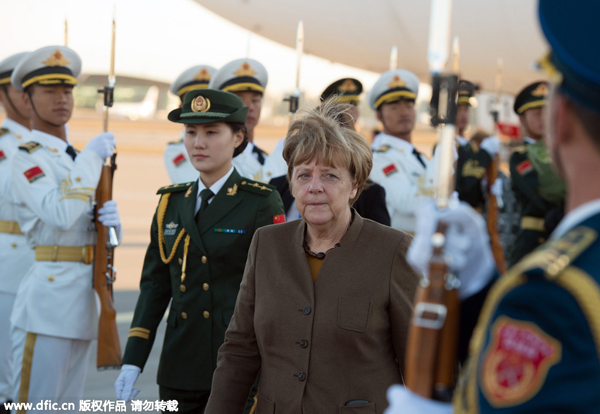 German Chancellor Angela Merkel arrives at the international airport in Beijing, China, Oct 29, 2015. [Photo/IC]
Booming economic ties
Nadine Godehardt, a China expert from the German Institute for International and Security Affairs (SWP), said the particularities of Sino-German relations are based, above all, on their flourishing trade relations, which are very important for both sides.
"A lasting special relationship between Germany and China is well founded because of the mere fact that Germany is by far the largest trading partner of China in the EU," Kadura said.
"With Germany, China probably has the strongest partner relationship in Europe. A look at the economic cooperation illustrates this: Germany has become China's most important economic partner in Europe in 2014 with a trading volume of over 150 billion euros ($165 billion); China is Germany's most important trading partner in Asia," he added.
According to Chinese official statistics, the trade volume between China and Germany has reached 177.8 billion dollars in 2014, accounting for around 30 percent of China-EU trade volume.
Close cooperation between the German and Chinese governments has clearly strengthened, and promoted bilateral trade and investment relations in the last decade, noted Benno Bunse, CEO of Germany Trade and Invest, adding that German exports to China have more than tripled since 2004, while imports of Chinese goods have more than doubled.
The cumulative amount of German direct investment in China has increased by more than 300 percent during 2004-2013, Bunse told Xinhua. Meanwhile, Chinese investment in Germany has also increased rapidly.
According to a report by Germany Trade and Invest, China has become the number one investor in Germany in 2014 with record 190 investment projects, ahead of the United States with 168 projects and Switzerland with 130 projects.

We will not give up search, Li vows
International hunt for missing airliner continues after fruitless six-day search