Merkel's visits to China aimed at forging 'special' ties
( Xinhua )
Updated: 2015-10-29 10:09:35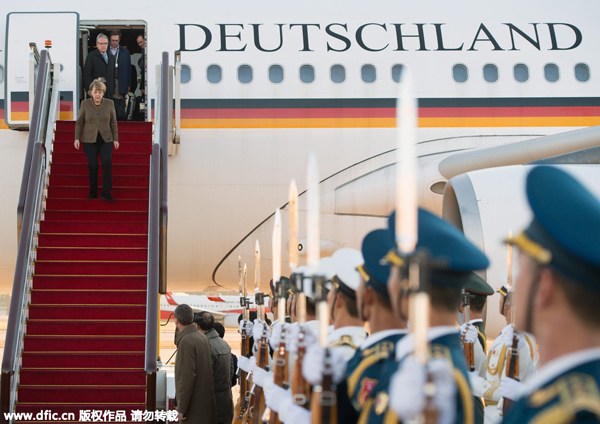 German Chancellor Angela Merkel arrives at the international airport in Beijing, Oct 29, 2015. The trip will take Merkel to East China's Anhui province, Premier Li Keqiang's hometown, where the German Chancellor will visit a rural household and a village primary school, accompanied by Premier Li. [Photo/IC]
BERLIN - German Chancellor Angela Merkel pays an official visit to China on Oct 29-30, which is her eighth trip to the Asian country since 2005 in the capacity of chancellor.
Experts here and figures from political and economic circles say that her frequent visits to China, the most among all German chancellors and a record among European leaders are aimed at forging "special" ties with the world's second largest economy.
Special relations
"Developing relations with China is the consensus of major political forces in Germany. The ties between China and Germany have a solid political foundation," Chinese Ambassador to Germany Shi Mingde told Xinhua.
"Chinese leaders also attach great importance to developing relations with Germany," Shi said, noting that mutual trust and frequent exchanges of visits between leaders of the two countries are of great significance for promoting the comprehensive development of Sino-German ties.
People have been talking about a "special" relationship between the two countries as bilateral ties have maintained a good momentum of development in recent years.
Johannes Kadura, a China expert from the German Council on Foreign Relations (DGAP), believed that it is justified to speak of a "special" relationship at least since President Xi Jinping's visit to Germany at the end of March 2014 and the joint declaration of establishing an all-round strategic partnership between the two countries.
The Chinese government, Kadura told Xinhua, regards Merkel as a strong leader who has a significant influence on European policy, while Merkel, in contrast to some other European representatives, has consistently shown a great interest in China.
Sino-German cooperation, Shi said, is also having an impact at the international level.
"Both China and Germany have significant international influence. The two countries have maintained close cooperation in international affairs and are both actively committed to addressing focus issues through political and diplomatic means," the ambassador said.
"The cooperation between China and Germany is not only in the interest of both countries, but also conducive to safeguarding world peace and promoting common development," he said.

We will not give up search, Li vows
International hunt for missing airliner continues after fruitless six-day search