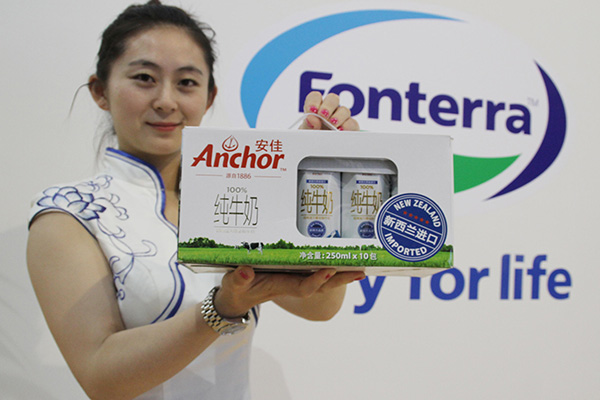 A woman demonstrates products of Fonterra Co-operative Group Ltd at an expo in Beijing. [Photo/China Daily]
New Zealand-based Fonterra Co-operative Group Ltd, the world's largest dairy exporter, will not alter its growth strategies in China, despite price volatility and slower growth, a top company official said.
Theo Spierings, chief executive of Fonterra, said that food services and consumer goods would be the new thrust areas in China, apart from the ingredient and farming businesses.
The chief executive's comments came after prices of dairy products plunged in the last two years. Though there was a marginal recovery in prices during the last two months, it would be difficult to gauge the long-term prospects, Spierings said.
Fonterra, however, is committed to its investment and growth in China, its largest global market, he said.
Global raw milk prices dropped from $55 for 100 liters in February 2013 to $25 in July 2015, a two-year low, and recovered to $27.2 in September, a 13.3 percent month-on-month increase and 24.2 percent year-on-year decrease, according to data provided by the International Farm Comparison Network, a worldwide association of agricultural scientists, advisers and farmers.
Spierings said Fonterra will continue to develop its farming business and cooperate with the local dairy industry to increase production in China. The company is particularly keen on strengthening its food service and consumer goods businesses, including brands like Anchor (dairy products), Anmum (nutrition products) and Anlene (bone nutrition). Expanding online sales is also on the group's radar, he said.
Last year, the group's consumer and food service businesses contributed 3.9 billion liter liquid milk equivalent in China. That number is expected to reach 5.9 billion liter LME by 2018, according to the company.
The group has also been trying to expand its market share in food services, such as promoting use of mozzarella cheese for pizzas in China, and distributing ultra-high temperature treated milk and milk powder products through e-commerce channels.
Fonterra recently completed its purchase of an 18.8 percent equity stake in Chinese infant food maker Beingmate Baby & Child Food Co Ltd. The two companies will establish a joint venture to purchase Fonterra's Darnum plant in Australia and also ink a distribution agreement making Beingmate Fonterra's exclusive distributor for Anmum products in China.
According to data from Euromonitor International, a market research and analysis provider, Chinese residents consume 19 kilograms of dairy products per capita.
From an overall perspective, the domestic dairy market will continue to face strain due to the slower economic growth. While growth will continue to remain positive, it will be at a much slower pace than previous years, said a recent research report from Rabobank, the Netherlands-based lender that focuses on agricultural and food financing.
In a new development, Fonterra Co-operative Group opened its second dairy application center in Guangzhou, the capital of Guangdong province, on Thursday, aiming to satisfy growing demand for high-end dairy products in the South China market.
"The market for dairy products is growing rapidly, thanks to fast-changing food habits from Chinese restaurants and ordinary families," said Bu Kefei, general manager of the marketing & business development of Fonterra (China).
According to Bu, the New Zealand-based company would open more application centers in Beijing and Chengdu soon. The centers will provide integrated dairy solutions for local restaurants, including development of new dairy formulas, training and marketing service.
Qiu Quanlin contributed to this story.