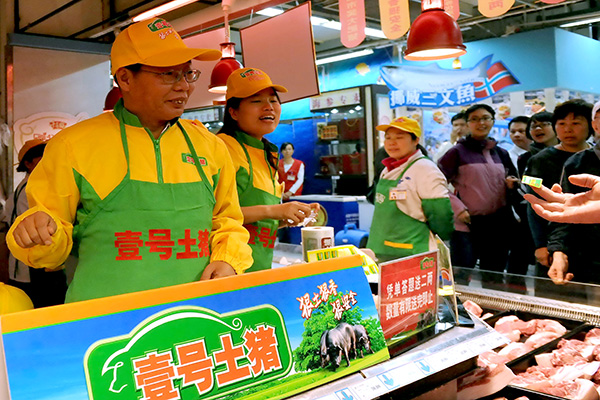 Chen Sheng (left), president of Tiandi No 1, a newly listed company on the New Third Board, promotes his No 1 Original Pig products at a supermarket in Beijing. The company plans to issue an additional 25 million shares for 25 yuan each to raise 625 million yuan. [Photo/China Daily]
Vinegar beverage maker Tiandi No 1, a newly listed company on the New Third Board, is planning to raise 625 million yuan ($98 million) by issuing an additional 25 million shares to 35 new investors at 25 yuan a share.
Prior to this, the company had 410 million shares in circulation at the National Equities Exchange and Quotations, China's over-the-counter market, also known as the New Third Board.
Consequent to the new issue, the total market value of the Guangdong-based company will reach 10.875 billion yuan.
However, if the calculations are based on 30 yuan-a-share as per current market price, the company's market value will soar to 13 billion yuan. Should that happen, Chen Sheng, president of the company, who holds more than 80 percent of the equity, will see his personal net worth soaring past 10 billion yuan.
Apart from Tiandi No 1, Chen owns another company, No 1 Original Pig, with an annual revenue of more than 1 billion yuan.
Among the founders of listed companies on the New Third Board, Chen's net worth is just behind Wu Gang, president of JD Capital Co Ltd, an investment firm, whose value is 18 billion yuan.
Tiandi No 1 was listed on the New Third Board on August 20, and on the same day, it issued shares for 17.5 yuan each and raised 175 million yuan, which was mainly used for developing the company's online-to-offline business.
Born in Zhanjiang, Guangdong province, Chen graduated from Peking University with a Bachelor's degree in economics. He gave up his job as a civil servant, and founded Guangdong Tiandi No 1 Beverage Co Ltd and Guangdong Tiandi Food Co Ltd. He was known as the "king of pork" in Guangzhou.
"Having a marketing focus is the key to success in the fast-moving consumer goods. However, this is something that needs a lot of funds, especially if companies are pursuing mergers and acquisitions. This is why we wanted to be listed on the New Third Board," he said.
"We want to raise more capital for mergers and acquisitions, especially at a strategic level."
According to the company's half-yearly report, its revenue soared to 639 million yuan in the first six months, up 99.20 percent from a year ago. Its net profit reached 148 million yuan.
The company posted revenues of 1.173 billion yuan and 1.126 billion yuan in 2013 and 2014, while the net profit stood at 314 million yuan and 253 million yuan, respectively.
Two senior executives, Wang Guang and Zhang Luan, hold stakes of 5 percent each in company.