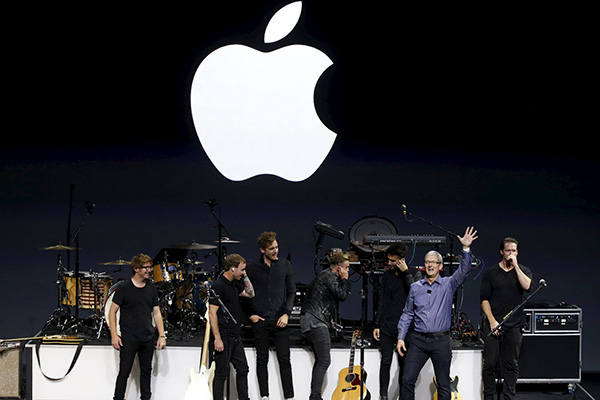 Apple Inc's CEO Tim Cook waves to the audience after a media event in San Francisco. Cook introduced a fair number of new devices at the event. [Photo/Agencies]
Apple Inc CEO Tim Cook said the company will continue to make ambitious investments in China despite the economic slowdown.
The United States tech giant said nearly a quarter of its revenue in the past quarter came from China, the world's biggest smartphone market.
The country is "a superb place" where Apple will be "as aggressive as ever", Cook said during a visit to Beijing last week.
Cook's comments came amid an obvious slowdown of the Chinese economy. GDP growth in the country dipped to a six-year low of 6.9 percent during the third quarter.
"I know some people are worried about the economy. But we will continue to invest," Cook said in an exclusive interview with the Xinhua News Agency.
"If you look at the long term, it is clear that China is such a great place to be."
Nicole Peng, director of Shanghai-based research firm Canalys China, said huge demand for the iPhone 6S series has boosted the company's performance in the country.
"Apple will keep its edge in premium-end market in the coming quarters as its major rival Huawei Technologies Co Ltd wins over lower-end segment," Peng said, adding Huawei was also able to gather a big team of developers to make localized applications comparable with Apple's own iOS operating system.
Apple said on Wednesday that China accounted for $12.5 billion of the $51.5 billion revenue it earned during the fourth quarter that ended in September.