China, Australia discuss expanding FTA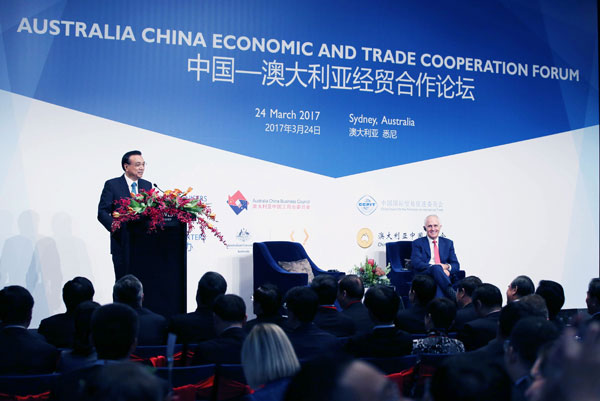 Chinese Premier Li Keqiang (L) delivers a speech at the Australia-China Economic and Trade Cooperation Forum in Sydney, Australia March 24, 2017. Li attended the forum together with Australian Prime Minister Malcolm Turnbull. [PhotoXinhua]

Li is confident their cooperation will 'flourish as glowingly as the flowers'
China and Australia have started in-depth negotiations to further expand their free trade agreement to other fields, especially the service and investment industries, Premier Li Keqiang said on Friday in a keynote speech in Sydney to more than 500 CEOs from both countries.
It was part of the premier's speech at the Australia-China Economic and Trade Cooperation Forum in Sydney. Li and his Australian counterpart Malcolm Turnbull met with the CEOs.
Li is on a four-day visit to Australia before heading for New Zealand on Sunday.
He said at the forum that the increase in trade between the two countries is one benefit of free trade.
The 9 percent increase in China-Australia trade last year exemplified the importance of free trade, which in part contributed to Australia's economic growth for 26 consecutive years, Li said.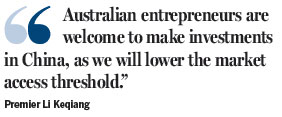 "I am confident that we have the wisdom to tackle challenges resulting from protectionism. .... And I hope the economic and trade cooperation between the two partners will flourish as glowingly as the flowers in the meeting room," Li said. "Australian entrepreneurs are welcome to make investments in China, as we will lower the market access threshold."
Jiang Zengwei, president of the China Council for the Promotion of International Trade, said the China-Australia FTA has expanded cooperation in infrastructure, agriculture, the information industry, environmental protection and other areas.
Before the forum, both leaders also attended the sixth Australia-China CEO Roundtable Meeting and the second Australia-China State and Provincial Leaders Forum in Sydney.
Li said at the roundtable that it served not only as a channel for communication for businesspeople from both countries but also as a significant way to boost governmental exchanges. Businesspeople are expected to promote trade liberalization and the further opening-up of more fields for both countries, he said.
Before the events in Sydney, Li and Turnbull engaged in the fifth Annual Meeting between Chinese and Australian Prime Ministers in Canberra.
Both countries should fully review the existing free trade agreement and conduct free trade policies in more areas to promote globalization and oppose trade protectionism for open markets, Premier Li said.
Turnbull said that the two nations' economies can complement each other and that they face the challenges of economic transformation and trade protectionism.
Then Li and Turnbull witnessed the signing of a number of agreements between the two countries to boost cooperation in fields such as agriculture and food.
Both leaders agreed to strengthen people-to-people exchanges.
Turnbull announced in Canberra that Australia would open a new consulate general next year in Shenyang, capital of Liaoning province - it is expected to ease visa applications from Northeast China. Shenyang will be the host of the fifth Australian consulate in China, following Shanghai, Guangzhou, Chongqing and Hong Kong.
huyongqi@chinadaily.com.cn