China-Australia ties inclusive, Li says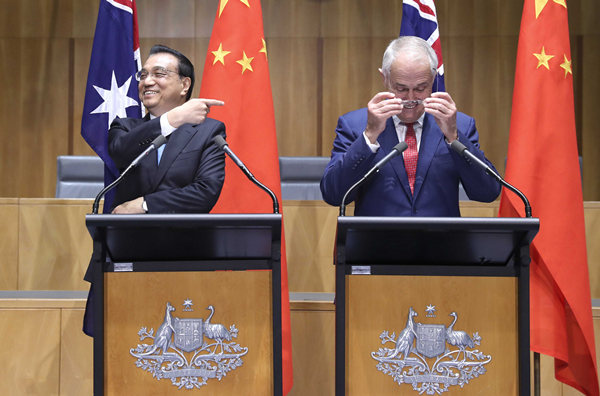 Premier Li Keqiang shares a light moment with Australian Prime Minister Malcolm Turnbull during a news conference at Parliament House in Canberra, Australia, on Friday.[Photo/Xinhua]
The China-Australia relationship "does not target any third party" and "there should be no such issue as taking sides" as Australia develops its ties with China and the United States, Premier Li Keqiang said on Friday.
He made the comment when asked about diplomatic interactions among the three key Asia-Pacific economies at a joint news conference with Australian Prime Minister Malcolm Turnbull after annual talks in Canberra.
The premier, who is making an official visit to Australia from Wednesday to Sunday, addressed the question at a time when some officials, observers and media have encouraged Washington and Canberra to contain Beijing by seeking greater engagement on the South China Sea issue.
"We hope the relationships among the countries concerned will be conducive to free trade as well as stability and peace in the region and in the world," Li said.
China respects the diplomatic policies adopted by Australia based on its own national conditions, and it "holds an open and inclusive mind-set when developing relations with various countries", Li said.
Liu Qing, director of the Department of Asia-Pacific Studies of the China Institute of International Studies, said Australia can be a common ground where the friendship circles of China and the US overlap.
"A good interaction between China and the US will only be good news for Australia and bring it a favorable strategic environment," Liu added.
On the South China Sea issue, Li told reporters the region has been peaceful and stable, as more than 100,000 commercial ships sailed through the region last year alone and people heard little about attacks or piracy there.
He said China has no intention to militarize the South China Sea, since its facilities on the islands and reefs there are "primarily for civilian purposes with a certain amount of military equipment to protect the freedom of navigation and overflight".
Contact the writers at huyongqi@chinadaily.com.cn