Hurricane Irma kills 10 in Cuba, Castro calls for unity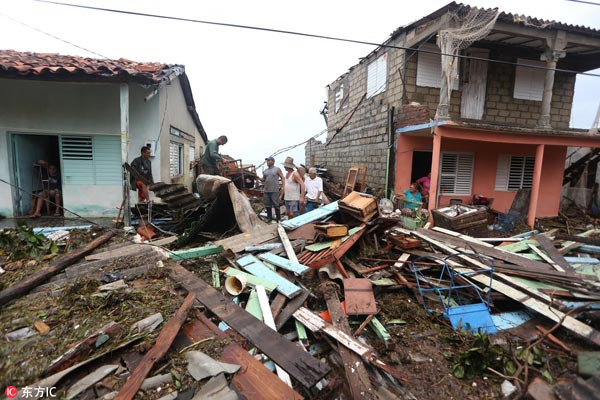 People inspect damaged buildings in Punta Alegre, northern coast of Ciego de Avila province of Cuba after Hurricane Irma passed through the area on Sept 11, 2017. [Photo/IC]
HAVANA - President Raul Castro called on Cubans on Monday to unite in swiftly rebuilding the Caribbean nation in the wake of Hurricane Irma, which killed at least 10 people during a devastating three-day rampage along the length of the island.
The storm crashed into Cuba late on Friday, with sustained winds of more than 157 miles per hour (253 km per hour). It tore along the island's northern shore for some 200 miles (322 km) -lashing tourist resorts on the island's pristine keys - before turning northward to batter Florida.
In Havana, people set about removing debris from the streets on Monday and mopping up homes hit by widespread flooding. The hurricane - the first Category 5 storm to make landfall in Cuba since 1932 - tore off roofs, felled trees and downed electricity poles, leaving millions without power and water.
State media said on Monday Irma had seriously damaged Cuba's already dilapidated sugar industry, flooding and flattening an extensive area of sugar cane.
"Given the immensity of its size, practically no region escaped its impact," Castro said in a statement published instate-run media, urging Cubans to unite to rebuild the country.
"The task we have before us is immense but, with a peoplelike ours, we will win the most important battle: the recovery."
Castro, 86, who has said he will step aside early next year, said authorities had not been able to assess the full extent of damage yet, but the hurricane had impacted housing stock and the power grid, as well as agriculture.
The fatalities in Cuba brought the death toll from Irma to 39 in the Caribbean.
Reuters