Red Cross offers Afghan children a lifeline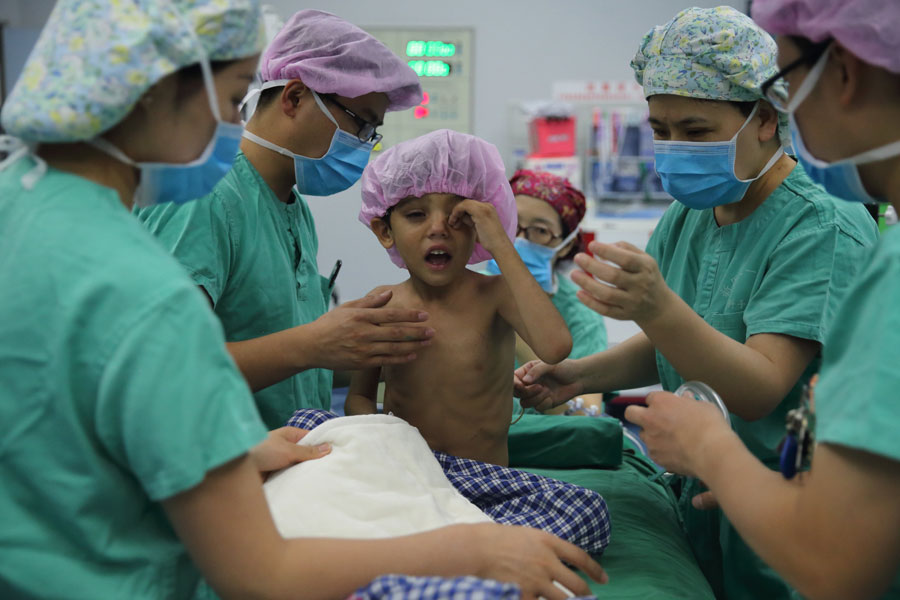 A child with congenital heart disease from Afghanistan is prepared for an operation at the First Affiliated Hospital of Xinjiang Medical University in northwestern China on Saturday. The program is part of the Red Cross Society of China's humanitarian activities in countries involved in the Belt and Road Initiative. WANG JING/CHINA DAILY
Youngsters with heart conditions flown to Xinjiang for crucial treatment. Mao Weihua in Urumqi and Cui Jia in Beijing report.
Doctors in northwestern China have performed lifesaving surgeries on 17 Afghan children with congenital heart disease, the first of many expected to receive help through an ongoing Red Cross program.
It comes after a Chinese medical team visited Kabul, the capital of Afghanistan, late last month to prepare desperately ill youngsters to be flown to China for free advanced treatment.
The first group of 21 children, aged 2 to 14, arrived at the First Affiliated Hospital of Xinjiang Medical University on Aug 30. As of Monday, 17 had undergone successful operations and were recovering well, according to Zhang Haibo, head surgeon for the program.
"The first day of operations (on Friday) all went well," he said. "Doctors from across China have become a great team in the operating room."
Angiza, 2, was among four children who received surgery on Friday. It took seven doctors three hours to fix an atrial septal defect, a serious condition that can affect oxygen levels in the blood.
Other children, like Marwa, have been receiving nonsurgical treatment. The 3-year-old has an abnormal heart structure, which means she is weaker and thinner than an average child of her age. Due to complications, doctors decided that surgery was too risky.