Trump urges Israel, Arab world to start 'new partnership'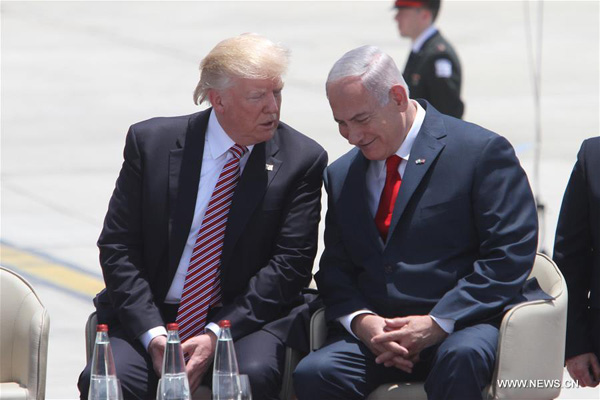 US President Donald Trump (L) speaks with Israeli Prime Minister Benjamin Netanyahu at Ben Gurion International Airport in Tel Aviv, Israel, on May 22, 2017. [Photo/Xinhua]
JERUSALEM - Speaking on the first day of his visit to Israel and the West Bank, US President Donald Trump urged Israeli Prime Minister Benjamin Netanyahu to start a "new partnership" with the Arab world.
"There are many things that can happen now that could never have happened before," Trump said in a joint statement after his meeting with Netanyahu.
"We must seize them together. We must take advantage of the situation," he stressed.
The president said Israel and Saudi Arabia, an Arab superpower in the Middle East, have common interests in struggling against Iran and the Islamic State group.
Speaking about his meetings with Arab leaders during his trip to Riyadh earlier this week, Trump said Saudi Arabia's King Salman "wants to see great things in the world."
"We are willing to work together. I believe that a new level of partnership is possible and will happen," the president added.
Trump also said he believes that "renewed effort" could lead to an Israeli-Palestinian peace deal.
"I've heard it's one of the toughest deals of all, but I have a feeling we will get there eventually," he said, adding that "there's a lot of love out there."
Netanyahu responded to Trump's remarks on a positive note.
"It won't be simple. But for the first time in many years, and Mr. President, for the first time in my lifetime, I see a real hope for change," he said.
Earlier on Monday, Trump slammed the nuclear deal with Iran, saying Iranian should be "grateful" to the US for the benefits they received.
"We gave them wealth and prosperity and ability to continue with terror," Trump said, vowing that Iran will never achieve nuclear weapons.