Labor leader Corbyn insists he backs Britain's nuclear deterrent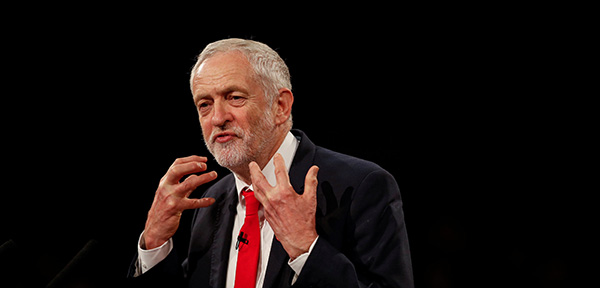 Jeremy Corbyn, leader of Britain's opposition Labor Party, delivers a speech at a campaign event in Birmingham, Britain May 20, 2017. [Photo/Agencies]
LONDON - Jeremy Corbyn, lifelong anti-nuclear war campaigner and leader of the main opposition Labor party, said in Birmingham Saturday he would back the renewal of Britain's Trident nuclear deterrent program.
He gave an unequivocal response during a media grilling after some members of his front team gave conflicting responses on Trident, which uses nuclear powered submarines as Britain's nuclear capability.
Labor's official party policy is to support the nuclear deterrent program, with Corbyn so far not giving clear responses as to his views on whether he would trigger the launch of nuclear bombs in a war situation.
The fall-out within Labor has led to Prime Minister Theresa May and her governing Conservatives to say a Labor government would put Britain's security at risk. Rival parties have taken advantage of the way Labor has been split on the nuclear issue.
Labor's shadow foreign secretary Emily Thornberry indicated Friday that Labor might change its stance on the nuclear weapons if it wins the June 8 general election. Quickly afterwards, the Shadow defense secretary Nia Griffiths said Labor was fully committed to the nuclear deterrent.
Corbyn said the party's election manifesto was very clear in its support for renewing Trident.
Pressed by media in Britain's second biggest city, Corbyn said: "I've just made it clear and included in our manifesto is an absolute commitment which is given by party and which is given by me that we will also pursue multilateral disarmament through the nuclear non-proliferation treaty, and that is a position that has been held for a long time by the party."
May's party has seized on the apparent confusion, with Conservative Bob Neill saying Corbyn and Thornberry "want to disarm Britain and put our security at risk".
He said in a media interview: "Corbyn's coalition of chaos would scrap Trident, abandon our allies and would rather talk to Daesh [so-called Islamic State] than strike its barbaric leader."